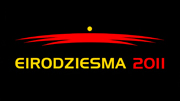 Latvia kicks off its season of Eirodziesma on Saturday the 5th of February from Ventspils and their selection process will consist of two semi finals, with the grand final being held on the 12th of February. Following the recent death of Mārtiņš Freimanis, it will be interesting to see if this will affect the placing of his entry Hop.
Following Aisha's catastrophic placing in last year's contest from Oslo, national broadcaster Latvijas Televizija has nothing to lose and everything to gain. All of the candidates taking part in this first round hope to take Latvia to the dizzying heights that they last scaled in 2005 with Freimanis' entry The War Is Not Over, reaching a credible 5th place.
This weeks chosen candidates are:
Song 1: Ģirts Zebuliņš & Atis Zviedris – Rough Enough (Andris Barons/Atis Zviedris)
Ģirts was born in 1982. Since 2006 he has been lead singer of the hardrock group Wild. He has also participated in various music competitions, his performances being broadcast both on TV and radio. The young singer has also taken part in both private and public events and has even performed a duet together with Hugo Fomins. Atis studied at the E. Darzins Music School, Riga. He developed his vocal and theatrical talents at the Saulkrastu Jazz Camp. He was awarded the best male vocal prize in 1999, won a similar competition in 2005 and 2006. Atis made the final of the Latvian Talent Factory competition. He was a member of groups Busy Bee, FOOC, Flame & Left Turn and 911 for a number of years – on their Eirodziesma participation, Atis says he's in it to win it, and at least attain a third place in the international final.
Song 2: D-Family – Daylight (Andris Freidenfelds/Ģirts Lūsis/Normunds Jakušonoks/Valdis Čirksts)
D-Family is a young pop outfit who firmly believe in keeping it in the family, as the group consists of 3 family members and 3 other members. They came together with the sole intention of taking part in Eirodziesma, having made a previous attempt in 2009 and between them, have appeared on numerous TV shows and taken part in many popular festivals. Vocalist Paula Dukurs won the New Stars competition.  
Song 3: Sabīne Berezina – Let Me Be (Ingars Viļums)
Sabīne was born in Bauska in 1990. Her solo career began in 1998, and in 2005 she won 3rd place in the Latvian selection for Junior Eurovision with It's Time. She has also represented Latvia in many overseas competitions, performing in Estonia, Germany, Italy and Kazakhstan among others. The singer also made it to the final of the Latvian preselection in 2009, singing Goodbye My Love. She has also taken part in the Golden Stag festival in Romania and Trixie festival in Bulgaria in 2008.
Song 4: Dace Upīte & Nikolajs Puzikovs – It's Not Easy (Māris Elksnis/Līga Markova)
Dace was born in Smiltenē but now lives in Riga. She has been singing since her childhood, participating in several competitions including Song For My Generation and Latvian Golden Talents 2009, reaching the semi-finals. Her first single, Bet Kad Tu Nāc, was well received by radio stations. Her follow up single, Deviņos No Rīta acheived similar success. Her third single Bez Skaļiem Vārdiem is out now. She is currently working on her debut album, due for release later this year. Nikolajs was also bitten by the singing bug as a child, taking part in various contests such as New Stars and Drops Of April 2008. He later became involved in musical productions such as The Tale of Cinderella, Oliver and Alone At Christmas 2. The singer also went on to win the contest Baltic Talent 2009. Last year saw him come third in the TV show O!Kartes Akadēmija. He is currently working at the Riga regional office of the Latvian state police.
Song 5: LieneCandy – Love Is Like An Aeroplane (Gints Stankevičs/Guntars Račs)
LieneCandy, real name Jelena Bronuša is a very gifted singer. She gained recognition following her appearance in the TV show Talent Factory Music Theatre and has also featured in a number of musical projects since 2004. LieneCandy is lead singer and songwriter of the group StoneStep. She was also involved in the 2008 Eurovision from Belgrade with Pirates of the Sea.

Song 6: Evija Sloka – Don't Stop The Dance (Māris Sloka/Artūrs Palkevičs/Guntars Račs)
Evija, born in 1989, had her musical education at the Baldones school of music, studying the violin. She performed alongside her father in the shows Sing With The Star and Star Rain. 2009 saw her take part in Choir Wars 2 and also competed in the Latvian Golden Talents show with her band EKS Diezs. Her song Es Meklēšu received heavy airplay, following her signing to the Microphone Records label. Her debut album is due for release in the spring 2011.
Song 7: Ineta Rudzīte & Uldis Timma – Walking On My Tiptoes (Andris Riekstiņš/Krišs Riekstiņš)
Ineta has been vocally active for over 10 years, providing background vocals to the Latvian group Otra Puse. In 2006, her album Starp Rīta Zvaigznēm was released, including a duet with Adrian Kukuvasu. She has recorded several solo songs and often performs with the group Žoržu Siksnu. She is also currently appointed as the honorary consul of Iceland in Latvia. Uldis was born in 1980. He gained recognition after winning the All Latvian Gold Karaoke Finals in 2005. He later joined a pop rock combo in 2008, Rise And Shine. Uldis has take part in several shows, including Choir Wars 2. Like his cohort, Uldis also regularly performs with the group Žoržu Siksnu.
Song 8: Grupa Pieneņu Vīns – You Are (Jurijs Koškins/Evilena Protektore)
Pieneņu vīns (Dandelion Wine) were founded in 2005 and have participated in many music contests, earning them valuable experience. The group consists of Evilena and Yuri, Yuri being the predominant songwriter. Their sound combines influences from both funk and jazz genres. The group have also participated in numerous festivals and public events such as Under One Roof, Imagine, Bauzlande and many, many others.
Song 9: Jānis Stībelis – Let It Be Me (Jānis Stībelis)
Jānis was born in Ventspils, and by the age of five he'd begun to play the piano, also taking lessons at the Talsi Childrens Music School. He gained popularity in the Baltic states by taking part in several musical projects, and he has also taken part in the popular Latvian New Wave music festival. Internationally he uses the stage name Jay Stivers in memory of his grandfather. Jānis has seven album releases to his name, his latest album Diapositīvi being released last year. He has perfomed in Israel, Sweden, Germany and Azerbaijan among other places, and records material both in Latvian and English. He is also a trained conductor, graduating from the Riga Pedagogical University.
Song 10: Blitze – Hop (Mārtiņš Freimanis)
The group Blitze were formed in 2006, having previously gone under the name Jauna Blice. They enjoyed great success with their first single Bibliotekārs. 2010 saw two more singles released, Segā Ietinies and Stāsts Savādāks. The group are considered a breath of fresh air in the Latvian music industry.
Listen to the songs in the first heat here.
Watch the first heat of Eirodziesma 2011 live here.