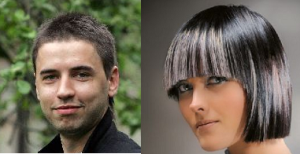 Over the course of the past two weeks, 10 acts have managed to qualify from the preliminary rounds of Eirodziesma to make it to the Latvian final. Elīna Krastiņa-Grence and Ivo Grīsniņš-Grīslis tasted victory tonight, thus making the line up for next Saturday's final from Ventspils complete.
Out of a total of 71 songs submitted to state broadcaster Latvijas Televizija, LTV, 20 were selected internally and allocated spots in both qualifying heats held on the 5th and 12th of February. The twist in this years voting system has been that half of the 10 acts presented in each round have advanced to the final, with three of the five acts being determined by public televoting while the remaining two acts have been selected by a professional jury.
From the first heat, Blitze, Grupa Pieneņu Vīns, Evija Sloka, Jānis Stībelis and D-Family were the acts lucky enough to make the grade. From the second heat, Triānas Parks, Oksana Ļepska, Musiqq, The Secretz and Lauris Reiniks were the ones to be awarded the coveted spots in the final.
Tonight's songs:
Song 1: Dace Upīte – Magnet (Kārlis Būmeisters/Dace Upīte)
Song 2: LieneCandy – Love Is Like An Aeroplane (Gints Stankevičs/Guntars Račs)
Song 3: Grupa Crazy Dolls – Positively Thinking (Aldis Zaļūksnis/Mārtiņš Poļakovskis)
Song 4: Ģirts Zebuliņš & Atis Zviedris – Rough Enough (Andris Barons/Atis Zviedris)
Song 5: Juris Ludženieks – Beautiful World (Juris Ludženieks)
Song 6: Sabīne Berezina – Let Me Be (Ingars Viļums)
Song 7: Elīna Krastiņa-Grence – Look Back At Me Again (Elīna Krastiņa-Grence)
Song 8: Ineta Rudzīte & Uldis Timma – Walking On My Tiptoes (Andris Riekstiņš/Krišs Riekstiņš)
Song 9: Ivo Grīsniņš-Grīslis – Cinderella (Ingars Viļums)
Song 10: Dace Upīte & Nikolajs Puzikovs – It's Not Easy (Māris Elksnis/Līga Markova)
The show:
A slightly jazzed up version of the Eurovision theme tune Te Deum opened tonights show, with hosts Uģis Joksts and Valters Frīdenbergs welcomed us once again. Although having improved vastly over the last two weeks, the duo still possessed all the warmth of a pair of icicles in the no frills setting that viewers have become accustomed to over the past few weeks, with LTV clearly on an economy drive! This week's music expert Ketija Dobrovska's choice of outfit was, diplomatically speaking, interesting. 
The results:
With the jury having the possibility to save one of the acts tonight and keep them in the running for the grand prize of representing Latvia at this year's Eurovision Song Contest, their choice fell on Ivo Grīsniņš-Grīslis. The viewing public however, chose to lavish the majority of their votes on Elīna Krastiņa-Grence, thus giving us the chance to see them perform in Ventspils in a week's time. Will the theory that being able to perform twice will help your chances of succeeding in wooing the televoters prove to be true? Well, there's only one way to find out, join us at Eurovisionary as we bring you the full results and coverage next Saturday! At the same time, the running order for next week's final was also determined by a live draw. The running order will be as follows:

Song 1: Evija Sloka – Don't Stop The Dance
Song 2: Elīna Krastiņa-Grence – Look Back At Me Again
Song 3: Ivo Grīsniņš-Grīslis – Cinderella
Song 4: Triānas Parks – Upside Down
Song 5: The Secretz – Summer Night
Song 6: Grupa Pieneņu Vīns – You Are
Song 7: Jānis Stībelis – Let It Be Me
Song 8: Oksana Ļepska – Live On!
Song 9: Musiqq – Angel in Disguise
Song 10: Blitze – Hop
Song 11: D-Family – Daylight
Song 12: Lauris Reiniks – Banjo Laura