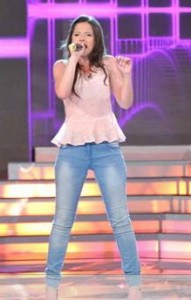 Kristina Kostovska was a finalist in the 2007 FYR Macedonia Junior Eurovision national selection. Now she is competing in a new music competition where she is part of a team event.  The show is called Site Nashi Pesni and teams from different cities and municipalities compete against each other.
Kristina Kostovska performed the song Ponekogas Posakuvam (Sometimes I Wish) in the 2007 Junior Eurovision national selection for FYR Macedonia.  She did not win the contest but her song and performance were well respected.
Since the Junior Eurovision selection Kristina has been busy with studies but has found time to make some recordings and appeared in a popular tv show M2 Proekt in 2011.  The same competition included 2009 Macedonian Junior finalist, Mila Janevska, and the representative for FYR Macedonia at the 2009 Junior Eurovision Song Contest, Sara Markoska.
The Site Nashi Pesni tv show is broadcast on MRT 1 channel.  The theme of the show is that all songs must be sung in the Macedonian language.  The singers compete as part of a team.  They represent various cities and municipalities throughout FYR Macedonia.  All the acts sing to a live band.
Kristina is part of the Aerodrom team and they have now won their way to the semi final of the competition.  You can see Kristina perform one of her songs on the show below.
You may also like to read: