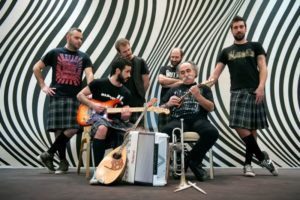 It was a big and glamorous night in Athens with local and international stars performing on stage and the viewers had the chance to decide among a good variety of options who would be best fit to represent the country at the 2013 Eurovision Song Contest.
Tonight, Greece has selected its Eurovision entry for 2013 and the show had nothing to do with what we saw last year when the national final was held in a shopping mall. The contrast can hardly be bigger and we just have to take a look at the guest list where there are the names of six Eurovision winners, two former participants, one of this year's entrants and some of the most popular local artists.
It started at 20:00 CET and it was a spectacular event which was organized by the Greek music channel MAD TV under the artistic direction of Fokas Evangelinos. A total of four acts were hoping to represent Greece at the 2013 Eurovision Song Contest.
The songs:
1. Thomai Apergi – One Last Kiss (Music by Giorgos Gekas; Lyrics by Agis Nikolakopoulos)
The genre is not Greek at all but the tune is so catchy that makes you want to clap your hands and sing along with the chorus. You would not call this a strictly rockabilly song but it is plain to recognize the influences and it has a nice rockabilly melody. She seems very confident on stage and she is very classy. She wore a backless black dress with white stars on it. With her on stage there were four musicians (a trumpet, a guitar, a cello and a trombone) all of them dressed in black and white.
2. Alex Leon featuring Giorgina – Angel (Music by Alex Leon; Lyrics by Riskykid and Alex Leon)
This song mixes techno music, club elements and oriental melodies. It has an interesting musical arrangement which makes it very mystical and the scenery was also pretty much mystical with a lot of dry ice on the floor. At first, it evokes images of a belly dancer but then the synth takes the tune in a dubstep direction. Georgina is a very strong vocalist but tonight she had many difficulties to reach the higher notes. She wore a long dark blue shiny dress and she was at the center of the stage throughout the whole performance
accompanied by four male dancers dressed in white pants and with their
chest bare. They had a very attractive choreography really well synchronized. Alex was on the right side of the stage dressed in dark clothes and behind his DJ table.
3. Koza Mostra & Agathonas Iakovidis – Alcohol Is Free (Music by Ilias Kozas; Lyrics by Stathis Pachidis)
It is a mixture of modern rock and ska with traditional Greek music which becomes an upbeat tempo song that makes you dance from the beginning. They have nice voices and they are very energetic on stage. They started their performance formed in a row playing their instruments (a guitar, an accordion, a bass and drums), but after the first verse they were distributed around the stage. Their outfit consisted of kilts with black trousers, black shirts, black high socks and sneakers. Agathonas was all the time in the center of the stage playing his little lute and dressed all in black.
4. Aggeliki Iliadi – Hilies Kai Mia Nychtes (A Thousand And One Nights) (Music by Kyriakos Papadopoulos; Lyrics by Ilias Philippou)
This song has a heartwarming ethnic melody which sounds more Arabic than Greek, but it is exceptionally beautiful and moving. It is like an oriental mystic tune but it all blends nicely. The intro is great and the orchestration is nice. She has a great stage presence but her vocals sometimes sounds a bit weak. She wore a backless long white dress with two big slits on the sides. She was accompanied by four male dancers who were dressed in black and danced around her and sometimes with her.
The show:
This year's Greek national final was a huge event. The show took place at the Gazi Music Hall in the very heart of Athens and it was hosted by one of the top pop singers in Greece Despina Vandi and the actor Yorgos Kapoutzides who previously hosted the Greek final in 2006.
The opening act was in charge of a group of young people all dressed in white who were standing on stage and behind them they were appearing some of the guests of the evening (Dima Bilan, Ruslana, Marija Serifovic and Alexander Rybak) while we listened a snippet to their respective winning songs in the background. Then they were joined by the hosts of the show who appeared under the snow which reminded Loreen's staging from last year.
The jury members were introduced and also their chairwoman who was no less than Vicky Leandros, the woman who actually became the first Greek winner at the 1972 Eurovision Song Contest on behalf of Luxembourg.
The first act of the night was Ruslana, who won the 2004 Eurovision Song Contest with the song Wild Dances. She sang a rock version of her entry in a duet with Eleni Foureira who participated at the
Greek national final in 2010.
Then it was time to listen to another Eurovision winner, Marija Serifovic with the band Melisses performing a totally new and bilingual version of Molitva, the song
with which Marija gave Serbia its first Eurovision victory in 2007.
Alexander Rybak, winner of the 2009 Eurovision Song Contest for Norway, was next on stage. He
sang his Eurovision entry Fairytale with Kostas Martakis who participated at the
Greek national final in 2010 and they were accompanied by a group of street dancers.
And continuing with the guests of the evening, Dima Bilan was next. He represented Russia in 2006 with Never Let You Go finishing second and won the contest in 2008 with the song Believe. Tonight he sang his winning entry in a duet with the Greek singer Demy.
After these performances we could see some of the Greek artists who had sung with the former Eurovision winners talking about that experience from the green room.
The woman who got the first and only victory for Greece at the Eurovision Song Contest could not miss this event and Helena Paparizou was also there singing an electronic version of her entry My Number One alongside the group Vegas.
One hour after starting the show it was time to listen to the four songs competing to be this year's Greek entry.
Once we had heard the four candidate songs last year's Greek representative took the stage but Eleftheria Eleftheriou did not come alone but with Ivi Adamou, who represented Cyprus at the 2012 Eurovision Song Contest. They performed a special remix of both songs Aphrodisiac and La La Love.
So far we only had heard the studio version that the broadcaster released a few days ago but today we had the chance to listen to Despina Oympiou, this year's Cypriot representative, singing her Eurovision entry, An Me Thimase, live for the first time.
Dima Bilan, Ruslana, Marija Serifovic and Alexander Rybak reappeared on stage once the televoting was closed but this time it was not to sing but to talk. Dima Bilan amazed the audience speaking in Greek and the hosts attempting to do their best talking to Ruslana in Ukranian language. Marija was asked for her favourites and she said that she liked songs number three and four. Alexander spoke about the musical talent of Greek children and he recommended the Greeks to believe in themselves because, "even though they have no money, they have sex appeal". After that, we saw a video with the top 10 of best Eurovision moments.
While all this was happening on stage, the four candidates were waiting in the green room and occasionally we could see them and listen to them talking about their feelings after their performances and asking people to vote for them.
Vicky Leandros was back to her homeland and tonight she performed a Greek version of the popular song Something's Gotten Hold Of My Heart entitled To Mistiko Sou. She also sang her
Eurovision winning song Après Toi in a duet with another Eurovision winner, Helena
Paparizou and this was probably the most moving performance of the evening.
The results:
The winner was chosen by a 50/50 mix of jury vote and televoting which was opened just after the last song was performed and the Greek audience had twenty-five minutes to vote.
The winner was announced by Vicky Leandros and they were Koza Mostra & Agathonas Iakovidis with Alcohol Is Free.
Greece at the Eurovision Song Contest:
Greece has participated at the Eurovision Song Contest since 1974 and it has won just once in 2005 with Helena Paparizou and the song My Number One. Before that, the highest score was third place, achieved by duo Antique (of which Paparizou was a member) in 2001 with Die For You and then again by Sakis Rouvas in 2004 with Shake It. Last year, Eleftheria Eleftheriou finished in 17th in the final with Aphrodisiac.
You might also want to read: