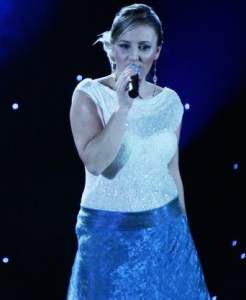 Juliana Pasha got her chance to work out the kinks with the Albania stage show this afternoon in Oslo. There were several problems with steadicam shots and major work needs to be done to the camera work as a whole.
Juliana is joined on stage by A violinist and three backing singers. The stage is purple and pink. The long shots look good but up close it's a bit flat.
There is very little movement on stage but none is needed. The violinist works well but he could be placed on the catwalk out fo the way of the steadicam.
Juliana sounds good in the arena but it's not transferring to the tv. At this stage the Albanian delegation will have to regroup and decide what changes they'd like by the time there next rehearsal comes around.