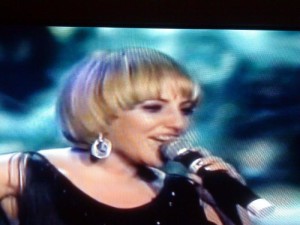 Albania have selected their 2010 Eurovision Song Contest entry from the 48th Festivali i Këngës. The winning act was Juliana Pash with the song Nuk Mundem Pa Ty (I Can't Without You).
Juliana won the festival with 133 points from the jury. The song was composed by Ardit Gjebrea and Piro Çako. The song is an upbeat dance song. Juliana had also taken part in the festival in 2007 and 2008. In 2nd place was the 2004 performer, Anjeza Shahini.
Kejsi Tola (Moscow 2009) also competed in the year's festival and finished 15th with the song Ndonjëherë. This was a nice ballad.
The full results –  
Juliana Pasha – Nuk mundem pa ty (133 points)
Anjeza Shahini – Në pasqyrë (118 points)
Kamela Islami – Gjëra të thjeshta (116 points)
Pirro Çako – Një tjetër jetë (106 points)
Flaka Krelani – Lë të bëhet çfare te doje (99 points)
Bojken Lako & Banda Adriatica – Love love love (98 points)
Denisa Macaj – Aria (92 points)
Dorina Garuci – Sekreti i dashurisë (78 points)
Mariza Ikonomi – La, la, la (76 points)
Rovena Dilo – Përtej kohës (69 points)
Iris Hoxha – Zërin tim ta ndjesh (67 points)
Erga Halilaj – Party (66 points)
Erti Hizmo & Lindita Halimi – Nuk të dorezohem (66 points)
Goldi Halili – Tirana Brodway (64 points)
Kejsi Tola – Ndonjëherë (58 points)
Stefi & Endrri Prifti – U dogjem mrekullisht (45 points)
Guximtar Rushani – Gëzuar (43 points)
Era Rusi – Fjalë dhe gjunjë (41 points)
Teuta Kurti – Mall i pashuar (19 points)
Claudio La Regina – Ave Maria (17 points)