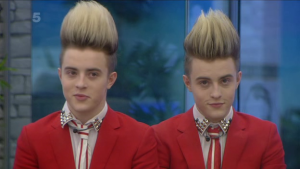 Over the past three weeks EuroVisionary have guided you through Jedward's stay in the UK Celebrity Big Brother house. Today was the final day – and it appears to be the surprise of the year when the British population only voted the energetic Irish twins into this year's third position.   
Three weeks ago they were locked up in a house with other celebrities. During the stay housemates Sally Bercow (married to the speaker of House of Commons) and the two actors Pamela Bach-Hasselhoff and Tara Reid were sent out by the public voting.
Jedward was never put up for evection and as such never been in danger of being voted out. They made it to the final week together with Paddy Doherty, Paparazzo Darryn Lyons, actor Lucien Laviscount, model Robert Sabel also just called Bobby, Reality star Amy Childs and singer Kerry Katona. Today, in a big live show, the British population had to choose between them. Only one of them could win the 2011 UK Celebrity Big Brother.
The result of UK Celebrity Big Brother 2011:
1st place: Paddy Doherty, who can hardly believe it. He wants to thank the English, Scots, Welsh travellers and the rest of the public who voted for him. He thinks he won because he was just himself, though felling like a fish out of water. Darryn will he his life long friend, he thinks – and he says he was like a father figure for Kerry. He regrets nothing, not that he called Jedward a sausage either. 
2nd place: Kerry Katona. She is happy coming this far. She went into the house to change her life and to make her children proud of her. Kerry also denies that she should have been interested in Lucien, he was like a little brother for her – depsite the kissing on the lips.   
3rd place: Jedward only comes third. That is a surprise to most people – certainly also to the live audience who scream for them. They think it was so cool to be in the house – they reveal that they brought 20 suitcases, which was only possible due to air compressing. They describe themselves as a portion of extacy to the house. They both say that they couldn't have done this alone. 
4th place: Amy Childs leaves the house in 4th position. She is asked if she fancies Lucien, but says no. To all the kissing and hugging and sleeping together she explains it with a few drinks. 
5th place: Lucien Laviscount is questioned about his relationship to the women in the house. During these three weeks we have seen him being in love with Pamela, Tara, Kerry and Amy – but he says he is just a flirty person.   
6h place: Darryn Lyons. The Australian parazzo is met with a host who wants to touch his fake "six-pack" when we came out. Darryn says he never played the game, was always just himself speaking his own mind. His rock in the house was Paddy and he hopes that he will win the show. 
7th place: Robert "Bobby" Sabel. He is asked afterwards what happend to his words about loving to be locked up with a house full of ladies. His reply: "But you never gave me any ladies". He says that he got on best with Jedward as they had so much fun in the house.
So now let's look at the last couple of days leading up to this final evening: 
Jedward was awarded the reward as "most annoying housemates". They would like to thank their mother for making them so annoying. 
Before leaving the house the housemates were asked for their favourite moment in the house. Jedward pointed at the punishment where they were dressed as babies. They didn't learn anything from it, but ended up enjoying crawling around in the diapers.
1  
Jedward's life as popstars: 
The past couple of days Jedward have suffered from separation anxiety as they became seperated for the "battle of the band" task. John on the winning team could stay inside being treated like a pop star while his brother Edward had to stay outside acting as groupie. He wasn't comfortable without John by his side: "It's weird actually having to talk to people and think about their feelings, and try and listen to them when all I keep thinking about is John, and what's he doing". and he goes on "without John, I'm nothing. I'm just a one person. I'm not twins. With John, I always have him next to me to support me". He tells that when they are performing he always imagines that everyone is just looking at John, never at him.
It is not much easier for John. He spends too much time with the groupies and Big Brother punishes him by having him autograph every single one of a large pile of flyers. That he however is used to as he says he wrote 2000 autographs on one evening in Germany. While signing the papers he goes on to talk about which autograhs he has himself. His favourite is Michael Jackson, but he also brags about Barack Obamas and even Princess Diana's, who died in a car crash in Paris in 1997. He mentions a list of like 50 people and concludes: "Basically every artist, the good ones, I have. The only autograh I don't have is Big Brother".
Paparazzo Darryn Lyons was asking John questions about their fans. John reckons they have got around 2000 fans, half of them being hardcore travelling with them on their tour. When asked if the fans ever become inapropriate he says no, but do say that they ask for jed-kisses and jed-hugs. 
John and Edward's stripstease for Kerry: 
1
1For Kerry Katona's birthday Jedward organised a very nice suprise party for her. Big Brother calls her to the diary room and Jedward and the other housemates start decorating. 15 minutes later she comes back into the livingroom and is nearly scared to death by the surprise. Later they have another surprise waiting for her: A striptease show! They didn't quite get the technique of ripping off their shirts, but Kerry is enjoying it anyway. They reveal that they have Kerry's name written on their backs.
The four other guys; Bobby, Paddy, Lucien and Darryn however think they can do a better job. They get music for their act and it was apparantly so good that Darryn found himself with a hard on!
Other episodes in this series:
Jedward trash the UK Celebrity Big Brother house and John became member of succesful boyband
Jedward punished – became babies in the UK Celebrity Big Brother house
Jedward splits – John marry Amy Childs in the UK Celebrity Big Brother house
Jedward as "the clean team" of the UK Celebrity Big Brother house
Jedward voted biggest diva by UK Celebrity Big Brother housemates 
Tomorrow a regular edition of Big Brother starts in the UK, although tonight a surprise was revealed: One of the housemates will be quite a celebrity. That is Baywatch breast star Pamela Anderson.
1