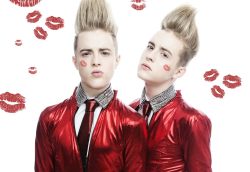 There hasn't been much stopping Jedward lately from experiencing massive success in home country Ireland with their second album. Can a house full of strangers do so? We will get to see that as they have entered the well known TV programme Celebrity Big Brother in the UK.
Jedward came 8th in this year's Eurovision Song Contest with the song Lipstick. Earlier this month they released their second album, which went straight into the number one position and now John and Edward have entered the British Big Brother house together with a group of other more or less well known celebrities.
From the stage in Düsseldorf we known them to be quite energetic and from the following press conferences we known that they appear unstable when they talk. Will it be the same with a camera on them 24/7 or will we get to see other sites of them? On their twitter profile they have promised to remember that their grandmother is watching! 
Arriving at the house: 
Kerry Katona (former Atomic Kitten member) arrives first, followed by American Pie actor Tara Reid.
First man arriving is Bare-knuckle fighter and Big Fat Gypsy Wedding starring Paddy Doherty. Reality star and model, Amy Childs comes next.
And now comes the one these stars fear the most as Australian paparazzo Darry Lyons joins them. He gets a warm reception, but then after a few minutes they reconise him as Mr. Paparazzo – and Tara Reid makes sure to inform them all about him.
Sally Bercow, politician and media personality (and married to the speaker of the House of Commons) arrives telling that people think she should be knocked into order for doing this, but she decided to participate to raise money for charity.

Coronation Street actor and model Lucien Laviscount comes into the house as nr.7. He appears popular among the females, but admits that his mum packed his suitcase. Pamela Bach-Hasselhoff comes next. She is an American actress who was married to David Hasselhoff with whom she has two children. It becomes clear that she has problems understanding some of the British accents.
Second to last comes model Robert Sabel. He recieves the biggest applause so far when he says that he is a car crash around women and is well recieved among the women in the house though he appears to prefer a bear.
And finally at the end Jedward enter the house with quite a mixed welcome by the audience – on the TV screens they are introduced as "legends" under profession. They say they will teach the other housemates how to make a haircut like theirs, but is also open towards that the others might find them annoying. They arrive wearing panda slippers and a tiger pingvin suit with hood. Kerry talks about wanting to have her picture taken with them, but they seem most facinated by the thought of getting to know Tara Ried a bit better.
John, Edward and the others: 
John and Edward are called to the hot chair in the diary room. Here they talk about that they like Amy and Kerry best so far, but they consider the whole experience as a massive sleep over. While Jedward is away the others talk about them. Paddy wants to drown them, Lucien doesn't have an opinion and Tara Reid had never heard about them. The others seem to like them and mention the fact that they don't drink and don't smoke.
As soon as the bedrooms are being opened Jedward rush in and jumps around on the beds picking the best ones more or less in the middle of it all.
Later they show Amy some of their dancing moves before they are called to the diary room together with her. Here they talk about Sally. John and Edward were talking about asking Big Brother what an MP (Member of Parliament) actually is. Amy brags about her political knowledge by telling the twins that Sally sort of owns the House of Commerce together with her husband.
In the bedroom John and Edward and Amy talk about relationship. Amy asks them if they ever had relationships and they answers that they never had a long time relationship. She suggests that they should share a girlfriend to which they say: "Eh, no that would be like.. crazy". 
Jedward awarded the biggest diva in the house:  
In the beginning Kerry Katona had been getting a special mission: Make a massive scene and get the others to vote for her as the biggest diva in the house without revealing her mission. As she screams for cigarettes without getting any John will try to comfort her, however she replies saying that it is written in her contract that he is not allowed to touch her and he quickly backs off.
And later the time had come to find out if Kerry completed her mission. They are all being asked who is the biggest diva and all, except Kerry, who votes for herself, point at Jedward as the biggest diva in the house. She failed her mission and is therefore up for elemination. She has to pick two others to follow her. She picks Robert and Sally and as such the irish twins are not facing to be kicked out just yet. 
Can't wait to hear more from Jedward? Buy their second album Victory below and stay tuned as we keep you updated.