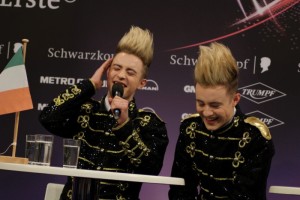 While their mother is updating their twitter profile her two twin boys are making her proud in the British Celebrity Big Brother house. They have become the cleaning team of the house and how frightning it might be they are showing themselves as more mature than most of their housemates.  
Though we can be quite sure that most people in a Big Brother house, and certainly a Celebrity one, is playing some kind of role we can already tell that the Irish twins Jedward is showing quite a different side of themselves than expected after their performance at the Eurovision Song Contest. 
Although we do see them stealing Sally's towel and bathrobe while she is in the shower, to which she reacts saying that they almost traumatised the entire nation by having her walk out naked, we see John and Edward acting more mature than expected from them – most of the time.  
John and Edward as the cleaning team:
Who would have thought that, while Sally and Paddy are discussing whether or not men should do housework and the rest of the housemates spend the time in the sauna talking about who could be hocking up with whom, John and Edward are to be found cleaning both the bathroom and the kitchen? Don't feel left out if you can't tell the difference between them. Several of their housemates can't either and at some point we hear the voice over of the programme say: One Jedward is cleaning the bathroom while the other Jedward instruct. A simple way to avoid having to tell them apart. 
Jedward are indeed the biggest Divas of the house: 
At the beginning of their stay in the UK Celebrity Big Brother house their other housemates awarded them as the biggest divas in the house. We are now beginning to see that they saw right.
At Paddy's 46 year's birthday they sang Happy Birthday to him while they had chokolate in their face. They rushed quite quickly to the bathroom to remove it as they were worried about getting spots and ruining their jackets. At the same time we find them engaged in a conversation with each other about how crazy it is that they are breathing the same air as their housemates and that it is coming through their lungs!
At another occasion we get to see their suitcases – and rarely have any woman packed so much clothes for just three weeks. Among the many outfits is also the one they wore on stage at the Eurovision Song Contest in Düsseldorf.
No help from Mohamed Al-Fayed:
Despite appearing quite feminen with their many suitcases, their worries about getting spots and the cleaning they didn't manage to charm Mohamed Al-Fayed, the father of Princess Diana's boyfriend Dodi with whom she was killed in a trafic accident in Paris. He visited the house one day where he was judge in a game to find the Big Brother Faro. Tara wins that prize, but during the game Mohamed decides to help all the women getting closer to the victory. We see him handing his cards to all the women discreatly telling them to call him – but he didn't help Jedward nor did they get his card.
John, Edward and marriage:
So far the Irish Jedward twins appear to be getting along with Amy the most, but who wouldn't as she promise to dress them up like Esex boys once they are out of the house? It is also with Amy they have a conversation about how weird it is to have fans outside their house all the time. She can relate to that as she has tried it herself.   
From time to time the other housemates talk about Jedward when they are not there. Most of that conversation is about how impressed they are in by them. They are stricked by their big selfconfidence, although that suffers a bit when asked if they think they will ever get married. To that question they reacted quite avoiding and insecure telling that girls that didn't want to have anything to do with them at the age of 17 suddenly calls them and want to catch up now that they are famous.
Missed our first article from the UK celebrity Big Brother house?