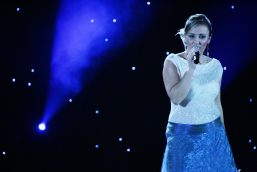 Juliana Pasha gave an amazing performance at her 2nd rehearsal for Albania at the Telenor Arena.
Juliana with her song, It's All About You, took centre stage with 3 backing gospel type vocalists.  Also, on stage was male violinist.
Juliana gave an outstanding performance of this lively disco song.  This song will surely stand out amongst the many ballads in the first semi final.
It's not only about you, Juliana.  Now it's all about the rest of Europe to vote for this great singer and song.