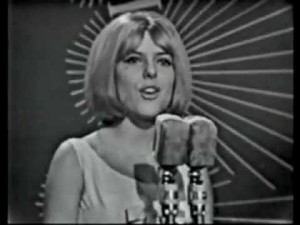 Today marks the 50th anniversary since the 10th Eurovision Song Contest took place in the Italian city of Naples on 20th March 1965. Among other things, the contest is notable for being the first time that Eurovision was won by an up-tempo song, France Gall's Poupée De Cire, Poupée De Son for Luxembourg.
This was the first time that Italy hosted the Eurovision Song Contest following their victory the previous year. The 1965 edition had 18 participating countries, a record number at the time, and was also broadcast to what was then Czechoslovakia, Poland, Hungary, Eastern Germany and the U.S.S.R., making it the first Eurovision to be broadcast in Eastern Europe.
Poupée De Cire, Poupée De Son (roughly translated as Wax Doll, Rag Doll), created by famous French singer/songwriter Serge Gainsbourg, went on to become a big hit around Europe and launched the successful career of France Gall. However, the song's lyrics proved controversial as some deemed them to be self-referential and represent teenager Gall as a blonde singing puppet. Poupée De Cire, Poupée De Son has nevertheless been one of the most instantly recognizable Eurovision winners; it was also ranked 14th in the voting for the best Eurovision songs of 1956-2005 that took place during the Congratulations Eurovision special to mark the 50th anniversary of the Eurovision Song Contest.

The participant countries:
In order of appearance, the countries competing in the 1965 contest were: the Netherlands, the United Kingdom, Spain, Ireland, Germany, Austria, Norway, Belgium, Monaco, Sweden, France, Portugal, Italy, Denmark, Luxembourg, Finland, Yugoslavia and Switzerland. 
This was Ireland's debut in the contest; Butch Moore sang Walking The Streets In The Rain and finished in 6th place. The country would consequently go on to win the Eurovision Song Contest seven times, an as yet unmatched record. Another country that would go on to become a 'Eurovision super power', Sweden, was back in 1965 after a year's absence.

The show:
The contest took place at a recently built Sala di Concerto della RAI (RAI Production Centre of Naples).
Each song was introduced by presenter Renata Mauro and performed in front of a background set that featured the original EBU logo. There were only medium and close-up shots of the artists as well as shots of the live orchestra and cuts to the audience after the performance of each song.
The interval act was famous Italian operatic tenor Mario Del Monaco.

The voting:
The voting was based on quite a complicated system. Each national jury could award 9 points; these could potentially all be awarded to a single song (this did not happen on the night), or split to 6 and 3 points for the jury's first and second favourite song, or split to 5, 3 and 1 point for the jury's first, second and third favourite song respectively.
Luxembourg received a total of 32 points. The rest of the top-5 included the United Kingdom's Kathy Kirby and the song I Belong in second place with 26 points, France's Guy Mardel and the song N'Avoue Jamais (Never Admit) in third place with 22 points, Austria's Udo Jürgens and the song Sag Ihr, Ich Lass Sie Grüßen (Tell Her I Send My Regards) in fourth place with 16 points and Italy's Bobby Solo with the song Se Piangi, Se Ridi (If You Cry, If You Laugh) in fifth place with 15 points.
The voting resulted in Spain, Germany, Belgium and Finland all finishing with 'nul points', each for a second time in their participation history up to that point.

Other interesting facts:
Sweden's Ingvar Wixell, contrary to all other contestants, chose not to sing his song in his native language but instead opted for the entry's English version under the title Absent Friend. This was a first in the contest's history and led to the introduction of a rule the following year which stipulated that all countries should compete in one of their native languages. Sweden finished ranking in 10th place.
Udo Jürgens was representing Austria for a second time in a row after the 1964 contest. It was a year later, in 1966, when Jürgens' perseverance paid off and, singing Merci, Chérie (Thank You, Darling), achieved the country's first ever Eurovision victory. Spain's Conchitta Bautista (who appears to be the first Conchitta in Eurovision history) and Yugoslavia's Vice Vukov were also returning artists having previously participated in 1961 and 1963 respectively.
Norway was represented by a nineteen year old Kirsti Sparboe in the first of her three Eurovision participations (the others being in 1967 and 1969). She sung Karusell (Merry-go-round) and finished in 13th place.
Both Monaco and Luxembourg were represented by French singers, Parisians Marjorie Noël (ranked 9th) and winner France Gall respectively, whereas Switzerland was represented by Greek singer Yovanna. Yovanna finished in 8th place with her song Non, À Jamais Sans Toi (No, Forever Without You).
You can watch France Gall singing Poupée De Cire, Poupée De Son in the following video.
You may also wish to read: