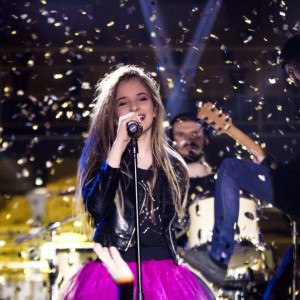 Sofiia represented her home country, Ukraine at the 2014 Junior Eurovision Song Contest as one third of the group Sympho-Nick and recently she has been working hard on the shooting of the official video of the song Rozpovid, which will be released very soon.
Sofiia Kutsenko is a talented young singer who is on the path to become a successful artist. After having represented Ukraine at the 2014 Junior Eurovison Song Contest, she keeps working on her solo career. She is about to release her first music video where she performs the song Rozpovid, the one she performed at the Ukrainian national final for the Junior Eurovision Song Contest back in 2013 when she came fourth.
Rozpovid means "Story" and the song was written by Alyosha, who represented Ukraine at the Eurovision Song Contest back in 2010, alongside Vadym Lisitsia, who also produced Alyosha's entry Sweet People.
The song speaks of how life is wonderful and it is fun to sing, listen
to and to simply just feel good when hearing it's enjoyable melody.
The video has a joyful and friendly atmosphere of community and acceptance in which everybody enjoys the music. More than fifty children and teenagers took part in the filming and they were really over-excited for the whole fifteen hours that it lasted.
The preview of the video will be released next month, but you can listen to Sofiia singing Rozpovid live in the video below.