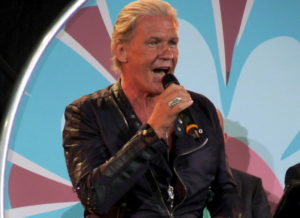 Dana, Johnny Logan, Linda Martin, Niamh Kavanagh, Paul Harrington and Charlie McGettigan will perform 12 concerts in several locations around Ireland. The only former Eurovision winner who is unable to participate is the latest winner, Eimear Quinn because she is pregnant.
The Irish music promoter Conor Mulhall had an idea when he was at home watching Jedward's performance in the final of the 2011 Eurovision Song Contest: to bring together all the winners from Ireland, the six, and put all these living legends of the contest onto a single stage and his wish has been made possible.
Ireland holds the record of seven victories at the Eurovision Song Contest and it is time to pay tribute to those wonderful years with a national tour featuring almost all the winners: Jonny Logan (1980 and 1987), Dana (1970), Linda Martin (1992), Niamh Kavanagh (1993) and Paul Harrington and Charlie McGettigan (1994).
The concerts will take place in October culminating at the Bord Gais Energy Theatre in Dublin.
Tickets will go on sale soon.