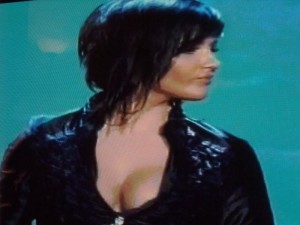 Iris Hoxha would love to represent Albania at the 2011 Eurovision Song Contest and will try to participate again in the Festival i Kenges later this year.  Iris is also trying to make it big in Italy by participating in a popular TV talent show.
Iris is a very popular singer in Albania after winning the Star Akademi show in 2008.  She took part in the Festival i Kenges in December 2009 and won the newcomers section and participated in the final with the song Zërin tim ta ndjesh.  Her performances were highly acclaimed.  Iris also did very well in the Top Fest competition this year in Albania with a duet with Kelly.
Iris told EuroVisionary she will submit a song for the next Festival i Kenges and it is her dream to represent her country at the Eurovision Song Contest.
Iris is trying to make it big in Italy this year by participating the popular talent show, Amici, on the Mediaset channel, Canale 5. 
EuroVisionary wishes Iris lots of luck with her ambitions.  She would certainly do Albania proud in Germany if selected to represent her country.