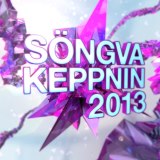 Icelandic broadcaster RÚV put an end to speculation yesterday by releasing the full details of all writers, composers and most importantly all artists that will make up the twelve competing entries in this year's Söngvakeppni Sjónvarpsins.
As reported here on Eurovisionary at the beginning of last month, Jóhanna Guðrún Jónsdóttir was finally confirmed as one of the participants in this year's Icelandic selection. Hers is just one of a whole number of familiar names completing the line up, and making this potentially a vintage year as far as Icelandic finals go. Jónsdóttir brought Iceland the second of their silver medals at the contest in 2009 with the dramatic ballad Is It True? She returned in 2011, with another ballad, Nótt, which failed to lift the crown but did go on to give Iceland its first ever victory at the OGAE second chance contest.
From the list of names confirmed yesterday, we see that 2003 entrant Birgitta is back after a five year hiatus. She earned Iceland a top ten finish with the pop-rock number Open Your Heart and last took part in the 2008 national final together with Magni singing Núna Veit Ég. For a third consecutive year – could it also be third time lucky? – Magni is back for another shot at attempting Iceland at Eurovision. He came so very close in 2011 with Ég Trúi á Betra Líf, and came third last year with the haunting ballad Hugarró. Hopefully he'll do what he does best, and give us a blistering rock number.
Faroeman Jógvan Hansen is also back in the fold after a short break – he was last seen in the national selection in 2011 with Ég Lofa, and has taken part at least three times previously, making him something of a veteran. Songstress and fan favourite Erna Hrönn is also back after taking a year off. This will be her fourth crack at the title and she was last seen in the national selections in 2011 with the big ballad Ástin Mín Eina. Harald Reynisson also took part in the same year, 2011, making it to the final with the country tinged number Ef Ég Hefði Vængi.
Last year's winners Gréta Salóme and Jónsi seem to have begun something of a trend, with two male/female duets featuring among this year's acts, hoping to emulate the success of last year's victors. The full line up can be seen below. Sveinn Rúnar Sigurðsson is back in force this year once more, with an impressive three entries, continuing his successfull partnership with Magni. Sigurðsson has penned two previous Icelandic entries – the 2007 rock epic Valentine Lost by Eiríkur Hauksson and the grossly underrated ballad Heaven by Jónsi in 2004.
Augnablik (A moment)- Erna Hrönn Ólafsdóttir
(M: Sveinn Rúnar Sigurðsson / T: Ingibjörg Gunnarsdóttir)
Ekki Líta Undan (Don't Look Away) – Magni Ásgeirsson
(M: Sveinn Rúnar Sigurðsson / T: Ingibjörg Gunnarsdóttir)
Ég á Líf (I've Got a Life) – Eyþór Ingi Gunnlaugsson
(M & T: Örlygur Smári og Pétur Örn Guðmundsson)
Ég Syng! (I'm singing) – Unnur Eggertsdóttir
(M:Elíza Newman, Gísli Kristjánsson & Ken Rose / T: Elíza Newman, Gísli Kristjánsson & Hulda G. Geirsdóttir)
Lífið Snýst (Life goes on) – Svavar Knútur Kristinsson & Hreindís Ylva Garðarsdóttir Hólm
(M: Hallgrímur Óskarsson / T: Hallgrímur Óskarsson og Svavar Knútur Kristinsson)
Meðal Andanna (Among the spirits) – Birgitta Haukdal
(M: Birgitta Haukdal, Sylvía Haukdal Brynjarsdóttir & Jonas Gladnikoff /
T: Birgitta Haukdal, Sylvía Haukdal Brynjarsdóttir, Michael James Down & Primoz Poglajen)
Sá Sem Lætur Hjartað Ráða För (The one who follows his heart) – Edda Viðarsdóttir
(M: Þórir Úlfarsson / T: Kristján Hreinsson)
Skuggamynd (Silhouette) – Klara Ósk Elíasdóttir
(M: Hallgrímur Óskarsson & Ashley Hicklin / T: Bragi Valdimar Skúlason)
Stund með Þér (A Moment With You) – Sylvía Erla Scheving
(M & T: María Björk Sverrisdóttir)
Til Þín (For You) – Jógvan Hansen & Stefanía Svavarsdóttir
(M: Sveinn Rúnar Sigurðsson / T: Sveinn Rúnar Sigurðsson & Ágúst Ibsen)
Vinátta (Friendship) – Haraldur Reynisson
(M & T: Haraldur Reynisson)
Þú (You) – Jóhanna Guðrún Jónsdóttir
(M & T: Davíð Sigurgeirsson)
This year's Icelandic selection will consist of two qualifying heats which will be broadcast live from the RÚV studios on the 25th and 26th of January, with three acts from each heat advancing to the final on the 2nd of February, at the Harpa Concert Hall, Reykjavík. The two songs to gain the most points by means of a 50/50 combination of televoting and jury voting advance to a duel. Once the two most popular songs have been reprised, the winner of Söngvakeppni Sjónvarpsins will be chosen solely by televoting. All of this year's entries will be aired for the first time on Rás 2 from Monday the 14th of January and all entries will then be made available on the RÚV Söngvakeppni Sjónvarpsins website. Stay tuned for more background information on all competing acts.
You might also like to read: