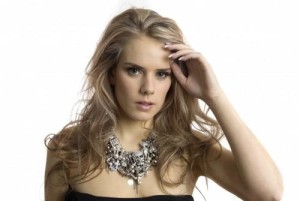 Speculation is rife as to an eagerly anticipated comeback for Jóhanna to the Icelandic national selection Söngvakeppni Sjónvarpsins, following broadcaster RÚV's announcment of all 12 song titles and composers.
Þú (You) was one of the twelve songs confirmed by Icelandic bradcaster RÚV as having made it past the initial selection process. The names of all twelve artists are yet to be released, but former Eurovision entrant and Söngvakeppni Sjónvarpsins participant Jóhanna Guðrún Jónsdóttir is a strong candidate to perform the song Þú, given that the composer is none other than her boyfriend Davíð Sigurgeirsson.
The young songstress with the crystal clear voice has been a star in Iceland since childhood, releasing numerous albums. Taking her career further, she represented her native Iceland in Moscow in 2009, bringing Icelandic the runner up position with the ballad Is It True. Success obviously gave Jónsdóttir a taste for more, as she returned for another shot at the title in 2011 with the fan favourite Nótt, but failed to live up to expectations in the national final, with Sjónni's Friends getting the ticket to Düsseldorf instead.
Jónsdóttir made a much publicized move to Norway last year in an effort to further her career and work on new material. Since then, things have been relatively quiet around the artist, but she has been beavering away, making music together with Sigurgeirsson. Following an interview given to Icelandic website Vísir, the chances of seeing Jónsdóttir take part in next years national selection have never been greater, when we learn that she actually recorded the demo version of his song Þú, which was submitted to RÚV. When asked whether she will be the one to perform it on stage in Reykjavík, she remains remarkably tight lipped about the whole matter, saying "It could well be me that ends up performing the song, but nothing has been decided yet. Davið is so laid back about the whole thing. The fact that he has made it to the final twelve songs is a victory in itself."
The couple compose and play a lot of music together, helping each other hone their skills. Jónsdóttir goes on to say that "I'm a self taught pop singer, whereas he has studied music and has considerable experience with the technical aspect of the recording process. That helps me a great deal. He plays a lot together with me now, and I love having him on stage with me. I always know things will run smoothly as long as he's around." Iceland's pop princess recently made quite a splash after having taken part on a prime time TV music show, Beat for Beat in Norway, where the couple have now lived for almost a year. The two lovebirds will also be spending Christmas in their adopted home country, despite all good intentions: "We were planning on going home for Christmas" Jónsdóttir tells Vísir "and I was amongst other things invited to perform as part of Bó Haldórsson's Christmas show, just like last year. But since there has been such great demand for me here in Norway in the run up to Christmas, it was with a heavy heart that I had to say no. You just don't say no to Bó!"
Fingers crossed then that we'll be treated to Jóhanna's performance of Þú; we'll just have to be kept in suspense a little while longer, with an announcement of all competing artists from RÚV due any time soon.
You might also want to read: