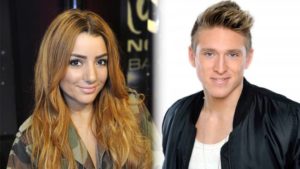 Minutes ago SVT revealed, during a press conference, that the hosts for next year's Swedish final, Melodifestivalen, will be Gina Dirawi and Danny Saucedo. Gina will thereby be doing this twice in a row where as it is new for Danny, who is a former participant.
The national final in Sweden always attracts a lot of spectators and TV viewers, also from aboad, and next year will be no different of various reasons. Due to Loreen's victory with Euphoria in Baku this year the winner of Melodifestivalen will be representing his or her own country on homefield thus getting a lot of extra attention. With the Swedish broadcaster, SVT, having changed venue from Globen to Friends Arena the number of spectators will increase massively from 14.000 to over 50.000.
We already know Sweden will continue its succesful format with four preliminary heats, a second chance round and finally a grand final. The dates and the rest of the locations have also been announced – and tomorrow the ticketsale will start. Today the broadcaster held a press conference to announce the hosts of Melodifestivalen 2013. It will be Gina Dirawi and Danny Saucedo to host the shows. 
Gina also hosted Melodifestivalen this year. She is a blogger and a comedian, who has proven to have a talent for TV – and a love for the Swedish national final. Danny Saucedo is a bit of a Swedish wonderboy. He shot to fame in Idols and have so far participated in the Swedish selection three times, latest here in 2012 where he finished second with Amazing.  
You might also want to read:
Melodifestivalen tickets on sale from 25th of October
First song confirmed for Melodifestivalen 2013 
2549 songs submitted to Melodifestivalen – lowest number for years