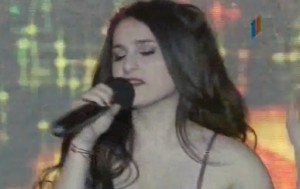 In the Azeri selection named Milli Seçim Turu another step of the long selection process was taken with the 4th heat this week. An usual number of participants fought the battle to reach the semi-finals with Leyla Əliyeva proven to be the strongest. 
This week's group of eight participants at the Milli Seçim Turu 2013 were Səbinə Şahmədova, Rövşən Əzizov, Ağamehdi Mirzəyev, Aydan Nurəlizadə, Elgün Hüseynov, Boris Bayramov, Xana Həsənova and Leyla Əliyeva. When the list of participating names were announced on İçtimai TV's website last weekend, name Leyla Əliyeva might have sounded similar to many of Milli Seçim Turu followers from last year's Eurovision Song Contest as one of the hosts was named Leyla Əliyeva. However it was nothing more than a similarity in names. Beside this little detail our eight participants of the week showed their skills over five days with each night performing different style as usual:
Monday: Eurovision Hits
Tuesday: Azeri Music
Wednesday: World Hits
Thursday: Stage Performance
Friday: Free Style (Participants may re-perform some of their previous songs in the selection)
The televoting results of each day were added to the
poll, which is also combined with the jury results at the end of fifth show like in previous heats. The combined results of heat four is as follows:
3 points: Ağamehdi Mirzəyev
4 points: Rövşən Əzizov
5 points: Elgün Hüseynov
6 points: Boris Bayramov
7 points: Aydan Nurəlizadə
8 points: Səbinə Şahmədova
10 points: Xana Həsənova
And Leyla Əliyeva is the winner of fourth heat with having 12 points at the scoreboard at the end of the last show. With the results of this heat, the Azeri Milli Seçum Turu's semi-final
heat now looks like (You may read our previous Milli Seçim Turu articles by clicking on the links below):
From 1st heat: Vüqar Muradov
From 2nd heat: Rəvanə Əliyeva
From 3rd heat: Fərəh Hadıyeva
From 4th heat: Leyla Əliyeva
The fifth heat will take on January, 21st at the usual time –
18.00 CET – and you will be able to watch it via İçtimai TV, satellite on
Turksat & Hotbird and its website, itv.az.
Last year's host country, Azerbaijan, will compete at the first half of second semifinal in Malmö. Though this small country participated in 2008 for the very first time, they have found
themselves a spot in the final each year up to now, also finishing at
top 10 each year.
Below you can watch Leyla Əliyeva performing on Azeri Music day.
You might also want to read: