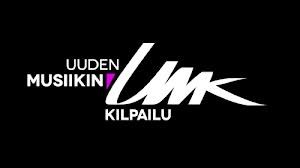 Finland took another step closer to choosing a song for the 2013 Eurovision with the first main heat of Uuden Musikiin Kilpailu 2013.  Which songs would the Finnish public go for?
So UMK kicks off, with our hosts Anne Lainto and Ile Uusivuori first introducing the judges that would help with tonight's decision.  These are Tomi Saarinen, Aija Puurtinen, Toni Wirtanen and Redrama.  Without any more ado, we went straight into the songs.
The songs:
1. Iina Salin – Last night (writers Iina Salin, Tommi Gröhn).  In a short gold dress which matched her hair, Iina belted out this club track.  She was accompanied by three musicians – two guitarists and a drummer who moved around with Iina.  First on is tricky, but she gave a very confident performance.  Our four judges seemed fairly complimentary about the song.
2. Last Panda – Saturday night forever (writers Henry Tikkanen, Aapo Immonen).  This five-piece band could have come straight from the local Students' Union stage, and sang a very uplifting song about being out partying.  This had a a hint of the band McFly about it, which suited them.  The audience seemed to really like this song.
3. Mikael Saari – We should be through (writer Mikael Saari).  Mikael took the tempo down a little.  He was dressed in a pale suit and looked a little like Amaury Vassili.  On stage by a pianist, two violinists and a cellist.  It contrasted well with the previous songs.
4. Ilari Hämäläinen – Sytytä mut vaan (writer Ilari Hämäläinen).  Our first Finnish-language song was again a contrast to what had gone before.  Hair-rock is a style that the Finns do well, and Ilari was joined on stage by five musicians , three with guitars.  He moved among the crowd and obviously had a large fan club in tow.  The main question was, while this was different, would Europe go for it?
5. Rautakoura – Ilmaaivalla (writer Lauri Häme). we went bluegrass now for a four-piece vocal group led by songwriter Lauri.  We had a banjo, guitar, lute and double bass.  They even completed the image with checked shorts and combat trousers.  It was very endearing and was really liked by the audience and got the biggest cheer so far.
6. Diandra – Colliding into you (writers Patrick Sarin, Leri Leskonen, Sharon Vaughn).  Finally, Adele-influenced Diandra sang a power ballad.  She was joined on stage by two male dancers who didn't try to steal the show.  It had a good hook that would go well in a recap of songs.
After the six performances, we were given a brief reprise and the telephone and text (SMS) lined were thrown open.  We then reverted to our two 'backstage' hosts who gave us some of the detail behind tonight's show.
We were then informed that the top two from tonight would go directly through to the final on 9 February.  The next three would go through to a final eliminator on 31 January.  The sixth placed song would be out.  Our four judges then had to vote giving points to each song.  Their totals were
Mikael Saari – 38 
Diandra – 32 
Iina Salin – 29
Last Panda – 27
Ilari Hämäläinen – 
Rautakoura – 
Before the public vote was announced, male vocalist Anssi Kela performed his latest song Levotot Tylä on stage. 
Finally, Anne introduced the six acts on stage.  Who would make it through? Mikael Saari and Diandra were directly qualified to the final, with Iina Salin, Last Panda and Rautakoura given another chance in the 31 January semi-final.  Ilari Hämäläinen failed to get any further.
The next show on 24 January will follow the same format. 
Below you can see the jury performances of tonight's direct qualifiers.