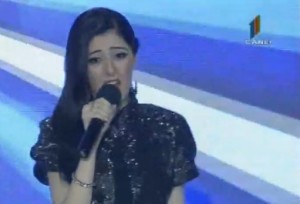 After a week's break in the selection process, last year's host continued on searching for another nominee for the semifinal. Out of nine, Fərəh Hadıyeva ended up as the lucky name, who qualified to the semifinal round, on this fifth day of heat three.
This week in Azerbaijan, the national final series, Milli Seçim Turu 2013 continued with its 3rd heat. Another group of nine participants showed their skills in different music styles on each evening from Monday to Friday. This week's names were: Group Avantaj Estrada, Fərəh Hadıyeva, Məhrəm Qurbanzadə, Oksana Rizayeva, Zəka Zeynalov, Elton İbrahimov,Ülviyyə Baxışova, Adil Baxışlı and Vüqar Əliyev.
You may well remember the names Elton İbrahimov and Adil Baxışlı from the 2012 edition of Milli Seçim Turu, where they also succesfully participated.  Both names qualified to the semifinal round by winning their own heats, but only Elton managed to make it to the final of Milli Seçim Turu where he lost to last year's Eurovision 5th placing act, Sabina Babayeva.
As usual our nine participants of the week showed their skills over five days with each night offering a different style: 
Monday: Eurovision Hits
Tuesday: Azeri Music
Wednesday: World Hits
Thursday: Stage Performance
Friday: Free Style (Participants may re-perform some of their previous songs in the selection)
During the week, the televoting results were added to a poll, which is then combined with the jury results at the end of the last show. The final results is as follows:
2 points: Ülviyyə Baxışova
3 points: Vüqar Əliyev
4 points: Oksana Rizayeva
5 points: Group Avantaj Estrada
6 points: Zəka Zeynalov
7 points: Məhrəm Qurbanzadə
8 points: Adil Baxışlı
10 points: Elton İbrahimov
12 points:
Fərəh Hadıyeva
The lucky name of the third week was Fərəh Hadıyeva who secured another place in the semifinal, beating Elton İbrahimov and Adil Baxışlı.
With the results of this heat, the Azeri Milli Seçum Turu's semi-final heat now looks like (Click on the links to read more about the previous heats):
From 1st heat: Vüqar Muradov
From 2nd heat: Rəvanə Əliyeva
From 3rd heat: Fərəh Hadıyeva
Azerbaijan is one of the newest faces at the Eurovision Song Contest
where they participated in 2008 for the very first time, have found
themselves a spot in the final each year up to now, also finishing at
top 10 each year. In 2011 they won the contest thus hosted last year's
big event in their capital in Baku in May last year.
Below you can see Hadıyeva's Tuesday performance with Teyyareler (Planes): 
You might also want to read: