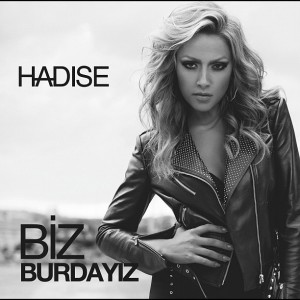 Former Turkish representative Hadise released her newest single in Turkish entitled Biz Buradayız in time for summer 2012. The CD includes a song with different remixes in various languages. Meanwhile the single can already be found in stores and the package includes some suprises for her fans. 
Turkey had very high hopes in the hands of the young and talented  Hadise (Hadise Açıkgöz) at the 2009 Eurovision Song Contest in Moscow. Hadise, together with her ex-partner Sinan Akçıl, produced a pop song with oriental flavours, Düm Tek Tek which attained a respectable 4th placing at the final of the contest. This would usually be considered a great success for most countries, but it was appaerent that Turkish media was far from satisfied. Hadise faced a wall of criticism which merely heightened her popularity and helped her career considerably in Turkey.
That year her promo-single Düm Tek Tek reached  nr.#1 in Turkey, Belgium and Greece, also managing to break the top 10 in Sweden. Then in the latter part of 2009, another album, Kahraman  was released and in 2011, Aşk Kaç Beden Giyer? was released in Turkey, with both albums remaining in the top 3 of theTurkish charts for some time. 
Shortly after, Hadise follows up her success, releasing another single in Turkish, entitled Biz Buradayız (meaning We are Here) in time for the summer. The single includes two tracks:
1. Biz Buradayız – Hadise
2. Firstclass (English remix version) – Hadise feat. Kaan
The songs are written by Deniz Erten and composed by Mario Winans, Fotios Stefos and Deniz Erten. The single can be found in larger stores with special packaging in Turkey and the rest of Europe as well as being available for digital download. The special package includes a CD, a poster, a sticker and discount coupons for use in shops worldwide.
The official videoclip of the single can be seen below: