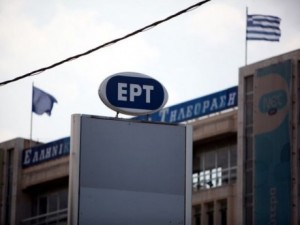 After months of discussions and rumors the Greek parliament voted just minutes ago the law through authorizing the reopening of ERT. Further information about the structure of the new ERT has been released as well and everything is moving smooth towards the re-opening on the 11th of June. 
After two days of discussions, this evening in the Greek Parliament the law for the reopening of ERT was voted through. Both parties that supports the government voted for the reopening of ERT, the two parties that supported the previous government and had imposed the sudden closure, voted no. "The rebirth of ERT is a resounding answer dignity, a victory for democracy," said the State Minister Nikos Pappas, opening the discussion of the law in the House plenary.
The parliament's president Zoi Konstantopoulou announced that the parliament would stay open after the expeditition of the law in order for it to get published in the newspaper of the government. This step is needed for a law to have power, and it is a step that usually don't go this fast. However it was decided to fasten up procedures to get the law completely through and finalised today.
ERT are now preparing for the new launch. An important element is that the ERT on 11th of June returns with all its structures. With three channels nation-wide, the 19 regional radio stations, the radio stations in Athens and Thessaloniki that were in operation before closing. Also planned is the reopening of the satellite channel.
People of ERT informed EuroVisionary of the new structure of ERT. The Greek Broadcaster will have three channels. They decided to reuse the old names that the state channels had.
ERT1 will be the man channel. ERT1 will have program entirely for Culture, Entertainment, without news. With series, sports programs and all the strong programs between them and Eurovision. This means that after 12 years Eurovision Song Contest returns from next year to the first channel of ERT (last time it was in 2003 when ERT1 broadcasted the Eurovision Song Contest 2003 from Riga)
ERT2 will be the second channel replacing the old NET. ERT2 will have only news and news shows.
ERT3 based from Thessaloniki versatile with emphasis on region, alternative actions, the movements, which so far supported  ERT.
The state fee will remain at 3,00 € per household, the same as for NERIT (it's still one of the smallest in Europe). Also the State Minister told that the Greek Goverment will demand about 25 million Euros from the private channels for using the public frequences since 2011 and they have't paid since then.
One last important issue from the law of ERT's reopening is that ERT will be provider of digital signal and can provide to other channels also, breaking virtual monopoly over Digea and enabling small regional stations which could not afford to pay Digea to transmit digitally.