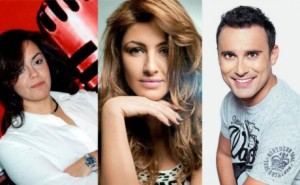 NERIT has announced that the Greek commentators for this years Eurovision Song Contest will be the famous actor and screenwriter Giorgos Kapoutzidis along with the journalist Maria Kozakou. This same duet has taken part in the broadcast of the contest for the past 4 years.
NERIT seems to have gone by the approach of if it isn't broke, don't fix it for the commenting team of the Eurovision Song Contest 2015. For the 4th consecutive year they have opted to send the duo of Giorgos Kapoutzidis and Maria Kozakou to Vienna for the transmission of the 60th Eurovision Song Contest to the Mediterranean coasted nation.
George Kapoutzidis has links to Eurovision nationally having presented with singer Despina Vandi as hosts of the Greek National Final the last 3 years. He will continue to do what he does so well as he shares his welcome words about the Eurovision to all who will gather across Greece to watch the Grand Final on 23rd May next on NERIT.
In the two nights of semi-finals like last year Maria Kozakou will be alone for the shows. It is only on the final night that viewers we will have the chance to hear the voice of George Kapoutzidis with her.
Meanwhile, to mark the tenth anniversary of her victory in the 50th Eurovision in Kiev singer Helena Paparizou will be seen in this years broadcast as reported here on EuroVisionary she will be announcing the results of the Greek votes in the Grand Final. You can read more on this story on the link below.