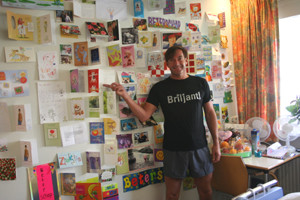 Dutch pop star Gerard Joling, who represented the Netherlands in the 1988 Eurovision Song Contest, has been through an emergency operation that delayed the presentation of his new album and a part in a film. He is in recovery now and the new album is ready to hit the stores as well as the charts.
Gerard Joling got sick a couple of weeks ago due to appendicitis, was immediately hospitalised and operated. He has now left the hospital and is back at his home for recovery. According to his website he needs absolute rest for the next of couple of weeks before he is ready to promote his new album Bloedheet. The doctor has strictly told him that absolute rest means to stay in bed, as "Everything on the inside has to slowly find it's place, and the wound has to heal as well"
Once recovered he has a film career to think about as well as he will be starring in a film called "Spion van Oranje" that is due to be released in February 2009. Tim Oliehoek directs the film that also includes Paul de Leeuw in a main role. Paul is well known for presenting the Dutch points to the Eurovision Song Contest in 2006 and 2007. The first time he went so far asking for presenter Sakis Rouvas's telephone number! Through the years Paul de Leeuw has recorded a lot of cover versions of various Eurovision Song Contest songs.
In the film Spion van Oranje Gerard Joling will be laying down in a bed most of the time and as he says himself then he has quite a lot of experience with that now!
His new single "Het is nog niet voorbij" is a cover of Switzerlands 1981 entry Io Sensa Te and was in the Netherlands a hit by Willeke Alberti, who represented the Netherlands in the 1994 Eurovision Song Contest with the song "Waar is de zon". Gerard's version can be heard on his website where it is possible to buy a download of the new album which will soon be available in various music stores. Time will tell if it can live up to his very successful 2007 album "Maak Me Gek" that received 11 gold and platinum awards, went number one on the charts and even had two singles that did the same.
It is 20 years ago Gerard Joling represented the Netherlands in the Eurovision Song Contest, but last year he confirmed to various Dutch medias that he would be interested in participating again if he can get it to match with his schedule.
Below you can see the video to his 2007 smash hit Maak Me Gek as well as his performance from the 1988 Eurovision Song Contest.
Links
In my view
Gerard, I hope you get better soon. As your, probably, biggest fan in Denmark I am looking forward to hearing the new album. I will see you at one of your concerts soon 🙂

The opinion expressed in "In my view" are those of the author and are not necessarily the one of EuroVisionary.com.