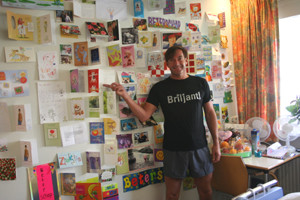 In relation to his newly operation Gerald Joling has received many greetings and encouragements from his fans. To show his appreciation he wants to invite six of them over for coffee. Via his website everyone can participate and the six lucky winners will be picked from a draw.
Gerald Joling is still in recovery after he was taken to hospital and operated immediately due to appendicitis. It happen just as he was releasing his new album Bloedheet and with a film part coming up as well it was really unfortunate for the popular Dutch singer who represented the Netherlands at the 1988 Eurovision Song Contest.
While being at the hospital he received a lot of greetings from his fans and the many cards covered the walls in his hospital room. After returning home he is still receiving many wishes and now he wants to return this by inviting six fans to come to his house for coffee and some sweets. A draw will decide who those six will be – but you can participate more than once. All you have to do is download his new single Het Is Nog Niet Voorbij at his website. This song is a cover of Switzerland's 1981 entry Io Sensa Te and each download cost Euro 1,30.
Once you downloaded the song you will receive a confirmation by email. By emailing this confirmation added your address and telephone number to [email protected] you take part in the draw. You can download the song two times per day – and each download counts as a ticket in the draw as long as you remember to email the confirmations you receive.
If you live abroad and don't have the opportunity to go to the Netherlands you can however still send him your best wishes. Cards can be sent to T.A.V. Gerald Joling, Bedrijvenweg 6B, 1424 PX, De Kwakel, The Netherlands.
Below you can see the video to his 2007 smash hit Maak Me Gek as well as his performance of Shangri-la from the 1988 Eurovision Song Contest.
Links
In my view
Some will say that this is a cheap trick to get high on the download list and to earn some more money, but fact is that very few singers would invite their fans home for coffee so despite him winning on this competition it is a nice thing to do and as his biggest fan in Denmark I would love to go. Anyone who will sponsor my flight ticket should I win? 🙂

The opinion expressed in "In my view" are those of the author and are not necessarily the one of EuroVisionary.com.