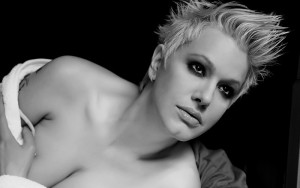 This evening Tijana Dapčević premiered her song "Tamu Kaj Sto Pripagam" (To The Sky), which she will compete with in this year's Eurovision Song Contest held in Copenhagen, in May. The singer was internally selected by the national broadcaster MRT.
Tonight MRT premiered the Eurovision Song Contest entry for F.Y.R. Macedonia. In a special show entitled "The Hit of the Month", Tijana Dapčević sang the song Tamu Kaj Sto Pripagam (To the Sky). The show was hosted by Aleksandra Jovanovska and Marko Mark, live from the capital, Skopje.
Tijana and the song:  
The Eurovision entry, Tamu Kaj Sto Pripagam, is composed by Darko Dimitrov and Lazar Cvetkoski while the lyrics were penned by the 2006 Macedonian representative Elena Risteska. The latter together with Darko, while Laura Rosca worked on the English version of the song which is an uptempo rock-electric entry.
Dimitrov Cvetkoski also wrote last year's Macedonian entry Pred Da Se Razdeni. During the show in which the song was premiered, both the Macedonian and English version were performed.
In August last year Tijana Dapčević was internally selected to represent the Balkan country in the next Eurovision Song Contest to be held in Copenhagen. 
Tijana who is of Macedonian origin is a popular pop singer performing mainly in Serbia. She won the prestigous Sunčane Skale festival in Herceg Novi in 2002 with the song Negativ. Dapčević sold a number of albums, and her songs charted as number one in all of the ex-Yugoslav countries.
In Copenhagen she will compete in the second semi-final i.e. on 8th May. She is expected to have her sister Tamara Todevska with her as backing singer. Tamara together with Vrčak and Adrian Gaxha represented the country in 2008 with the song Let Me Love You which finished 14th.
F.Y.R Macedonia at the Eurovision Song Contest:
F.Y.R. Macedonia debuted in the Eurovision Song Contest in 1998 though two years before attempted to participate, but failed in the pre-selection round existing of that time.
Since the semi-final format got introduced, the country made it five times to the final. In two successive years, 2008 and 2009, the country failed to qualify due to the jury wild card though ending in 10th place. Last year Esma and Lozano finished in 16th place in the semi-final and therefore did not advance to the final.
You might also like to read:
Watch the English version of the Macedonian entry in the video below