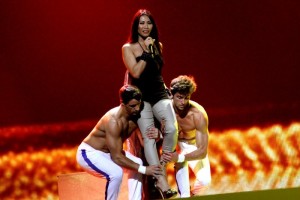 The French song in this year's Eurovision Song Contest is Echo (You and I), and today Anggun had her second rehearsal at Crystal Hall in Baku.
Yesterday France had their first rehearsal, and today they came back to rehearse once more. Just one day between the rehearsals, but a lot of improvement has been made.
First of all, yesterday Anggun had a few vocal problems, however, they seemed to be gone today, and she delivered a flawless vocal performance. 
Secondly, at the first rehearsal the choreography seemed a bit messy and out of order, but today it worked perfectly. Anggun is joined by three gymnasts in nothing else than white gym paints. They do a lot of gymnastic exercises during the performance, and they interact very well with Anggun. In the beginning one of them is doing a series of somersaults at the catwalk. At one point they lift Anggun up in the air, and later one of them jumped over Anggun. It looks very impressive. The two backing singers stand in left and right side of the stage but join the gymnasts a few times during the song in the middle of stage.
The back drop features gymnasts in various situations. It matches the things on stage very good.
And third of all, they dropped the wind machine. Anggun was in this rehearsal wearing her outfit for the final. She wears a short black top, white/grey trousers and she had a long piece of clothes hanging behind her. Yesterday it was blowing in the wind, but today it did not. However, Anggun does use it a lot and throws it around in the air during the song.  
The overall impression is that today it looked much more professional and the choreography fits the uptempo song well.
You can get a glimpse of the rehearsal in this video: