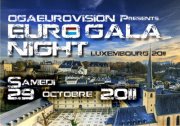 Luxemburg held its 5th Eurovision Gala in "Grand Théâtre du Luxembourg" venue the 29th of October. It was a show that featured previous participants as Omar Naber, Anabela, Marion Welter and D'Nash and at the same time funds was raised for Charity Télévie to fight cancer among children.
Eric Le Man and Sarah Laura Mignani hosted a wonderful evening where more than 250 persons coming from 25 different countries had found their way to Luxembourg. Eurovision fans from around Europe had signed up beforehand to take part in a competition where they had to sing each their Eurovision Song Contest entry of their own choice. That resulted in 11 candidates fighting for the victory. 
The show started with Is It True (Iceland 2009), But also older entries like Nous Les Amoureux (Luxemburg 1962) was represented. The newly held 2011 Eurovision Song Contest was also represented in form of the entries from Denmark, France and Austria. Some had chosen to sing former Eurovision winners such as Take Me To Your Heaven, Charlotte Nilsson's 1999 entry from Sweden and the Olsen Brothers' Fly On The Wings Of Love that won the Eurovision Song Contest for Denmark in 2000, while others picked Tell Me (Iceland 2000), Senhora Do Mar (Portugal 2008) and Se På Meg (Sweden 1995). Winner ended up being Luxemburger Thierry Mersch who gained the victory with the the Tom Dice's 2010 Belgian entry Me And My Guitar.
However before the result of the competition was announced four former Eurovision Song Contest participants fired up the audience inviting them on the dancefloor to sing and dance along. This was Omar Naber who represented Slovenia in 2005 with the song Stop that failed to qualify for the final. But also Anabela singing a duet with Marion Welter (Luxembourg 1992) of her 1993 Portugese entry A Cidada. This time the entry was performed in half English half Portugese. And finally D'Nash singing their Spanish 2007 entry I Love You Mi Vida that finished 20th out of 24, but since that has become popular among the fans.
After the show, Eric invited to a party where the artists as well as the public were able to dance and talk about the show. Javi from D'Nash mentioned that the band will go to Mexico in a few days to begin their promotion there.
Despite the fact that Luxembourg hasn't participated at the Eurovision Song Contest since 1993 with Modern Times' Donne-Moi Une Chance we can probably count on Eric to arrange yet another great party next year. 
Below you can watch EuroVisionary's video from the event including the performances from Omar Naber, Anabela and Marion Welter and D'Nash.