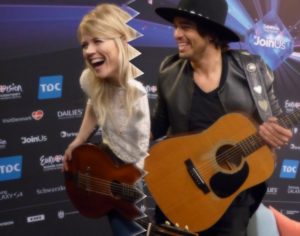 He returned home as a national hero, sold to platinum in almost no time and the Eurovision Song Contest entry, Calm After The Storm, became a gigantic chart hit in most of Europe. Waylon returned with keeping a low profile that resulted in a national search for him. Now he has spoken out.
For the past week the Dutch have been searching for Waylon. He hadn't been seen since him and Ilse received platinum for the big sale of their newly released album. Ilse went to Vienna, Austria with another man replacing Waylon. Fans and press were all asking the same question: Where is Waylon? Now he has spoken out.
In a statement published on his Facebook profile Waylon yesterday said: "I think it is strange to realise that I have become national property". He has been keeping low profile, but he doesn't see himself as a missing person.
He tells that he is busy working on his solo album Heaven After Midnight scheduled to be released in September, which was already postponed due to the Eurovision Song Contest. He adds that the performance in Vienna from Ilse DeLange was as the future of The Common Linnets will be: "Ilse is free to, as she originally intended, tour around as The Common Linnets with changing band members".
That things between him and Ilse might not be 100% right, he reveals when he mysteriously writes: "I would have wanted to commit myself for a longer time to The Common Linnets if this internationally would be based on creative equality".
The full statement can be found in Dutch on Waylon's Facebook page and below you can see the performance of Calm After The Storm from the 2014 Eurovision Song Contest where it ended second.
You might also like to read: