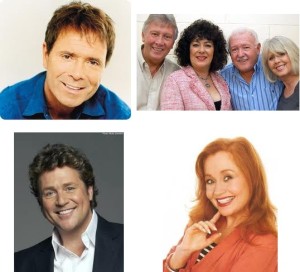 There is not much news from the BBC about who will be representing the United Kingdom at the 2013 Eurovision Song Contest in Malmö.  But the UK is home to many famous names that have participated in Eurovision down the years. Some  are still around, many years after their time on the Eurovision stage. We look at what some of them are doing. 
First is Cliff Richard. He's been a regular on the music scene since 1958. In 1968 he sang Congratulations in London and finished second to Spain's Massiel in what some have said are suspicious circumstances. Nevertheless, he was back in 1973 performing Power to all our friends in Luxembourg. This time he finished third.
His current Still reelin' and a-rockin' tour will highlight in June at large outdoor venues in England, including Old Trafford, Warwick Castle and Hampton Court. More details can be found on Cliff's official website.
Next, Brotherhood of Man, who won in 1976 with Save your kisses for me, have been touring regularly for nearly 35 years. As well as fronting some shows in their own right, they are often to be found at 70s nostalgia weekends. This year is no exception, and they will be appearing at several Music weekends at the UK's Butlins Holiday resorts. Details of these weekends can be found here.  Brotherhood of Man's own website also has more details of what the foursome are up to.
Michael Ball was the UK's representative the last time the Contest was held in Malmö in 1992. After singing all six songs in the UK's national final, he went to Sweden with high hopes with the song One step out of time. The close contest resulted in him finishing second.
Undaunted, his career has gone from strength to strength, performing in London's West End for many years. For 2013, he has a 19 date Both Sides Now tour coming up in England and Wales, starting in Ipswich on 15 April, ending in Portsmouth on 10 May. Michael is one of the biggest stars in the UK today, so this is a tour not to be missed.  Details are on his website.
A year after Michael, Sonia represented the UK at the Contest held in Millstreet. She also came second (also to Ireland) with the song Better the devil you know. She's currently favouring the nostalgia circuit, but this time with the 1980s. Indeed, some of her gigs during 2013 will be at Pontins and Butlins 80s weekends. However, she's appearing alongside Rick Astley, Belinda Carlisle and the Real Thing at The 80s Strike Back on 25 May at the Bradford Bulls Stadium, a feast of music for all fans of the 1980s.  More details are here.
So even though the UK isn't enjoying the success it used to, former Eurovision acts are an important part of the live music scene.