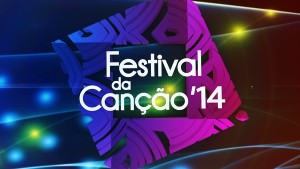 Portugal returns to the Eurovision Song Contest in 2014 and tonight the local broadcaster, RTP, held a semi-final consisting of 10 songs. Five lucky acts qualified for the final to take place on Saturday 15 March. The public alone decided what songs would make it the final. 
A couple of familiar songwriters are participating in the competition this year. Marc Paelinck, who composed the ESC songs from Belgium 2004, Malta 2009 and Belarus 2013, has co-written the song for Rui Andrade. Andrej Babic, who composed the ESC songs for Croatia 2003, Bosnia and Herzegovina 2005, Slovenia 2007, 2009 and Portugal 2008, has co-written the song by Caterina Pereira.
The Songs – 
1. Catarina Pereira – Mea culpa
Caterina is wearing a red dress. She is joined by two male dancers and three backing vocalists (two girls and one male). There is strobe lighting on the stage. The song is a catchy upbeat dance song with some mandolin. A great start to the show. 
2. Ivo Lucas – Eu vou
Ivo is playing the guitar and he is backed by male drummer and tambourine player and a male guitarist. There are three male backing singers. The song is a simple unplugged type song that you can imagine hearing in a subway. Ivo is wearing a checked shirt and a hat.
3. Zana – Nas asas da sorte
The song has typical Portuguese overtones with rhythm and backing vocals provided by four male singers. It is upbeat and is a cheerful song in the Portuguese language. Zana is wearing a long green dress and appears to be standing on a block.
4. Carla Ribeiro – Mais para dar
Carla takes to the stage wearing a green top and green pants. She is backed by two male guitarists and a male drummer with two female backing vocalists. The song begins slowly but builds in to a mid tempo stylish pop song with good vocals.
5. Ricardo Alfonso – Emoção
This is a mid tempo rock song. Ricardo is wearing a green t-shirt and jeans. He is joined by three male guitarists and a male drummer and also a female keyboard player. There is use of the strobe lighting again. Sometimes the backing vocals over power Ricardo.
6. Rui Andrade – Ao teu encontro
A gentle and emotional ballad. This song has a lovely melody and has nice string effects. Rui is wearing a smart green jacket with black trousers and white shirt with tie. He is joined by three female backing vocalists wearing long red dresses.
7. Lara Afonso – O teu segredo
Lara has a retro 60s sound and colourful bright background lighting. She is wearing black dress and is joined by three female backing vocalists wearing white short dresses. This song is quite catchy and has the fun factor.
8. Raquel Guerra – Sonhos roubados
This song could have been a Eurovision entry from the 70s. It sounds quite dated. But it is well performed with a nice rhythm. Raquel is wearing a long purple dress and has two female and two male backing singers. The wind machine is being used to good effect.  
9. Madalena Trabuco – Coração de filigrana
Madalena is wearing a long red dress and is joined by a male guitarist sitting on a stool. The song is a ballad sung simply with no thrills. The meolody is gentle and the song is performed well by Madalina.
10. Suzy – Quero ser tua (como a lua é do luar)
An upbeat song by Suzy to finish the songs tonight. It has a touch of the Lambada rhythm. It has a catchy rhythm and the Euroclub would go crazy for this. Suzy is wearing a short black dress and joined by two female backing singers and two male dancers with also a male bongo player. 
The Show –
The show begins with a medley and a look back a the Festival Da Canção over the years with several singers from the past. We also get to see another medley of songs after three of the qualifiers have been announced featuring previous Eurovision acts from Portugal.
The Voting –
The voting was decided totally by the public.  Envelopes were presented to the hosts on stage. The five acts going forward to the final are –
Rui Andrade
Caterina Pereira
Zana 
Raquel Guerra
Suzy 
You may also like to read –