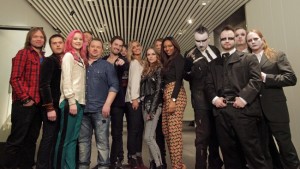 With the third and final heat of Melodi Grand Prix to take place on Saturday in Larvik, NRK announced the final seven contenders for the last few spaces in the final tonight. Following a rather mixed response to the winner of the first heat. Gromth & Emil Solli-Tangen, Margaret Berger win last week met with a far more universally positive response.
NRK may have lost the TV ratings war thus far with this year's edition of Melodi Grand Prix, but every cloud has a silver lining. The show has been an unmittigated success in another equally important respect, namely gaining all important radio airplay. Never before have so many of the entries taking part in Melodi Grand Prix been played on national radio – which for the greater part is contributed to bigger names taking part and morever the diversity and commercial viability of entries chosen to take part in each heat. Tonight's progamme was the last of three MGP Direkte shows and the seven contenders presented tonight are shown  below.
Semi final 3:
Song 1 : Utopia – Gothminister (L & M: Bjørn Alexander Brem)
Song 2 : Bombo – Adelén (L & M: Ina Wroldsen / Quiz / Larossi)
Song 3 : Sweet & Heavy– Lucky Lips (L & M: Malin Pettersen)
Song 4 : Awake – Gaute Ormåsen (L : Gaute Ormåsen / Jesper Borgen / M: Fredrik Borgen)
Song 5 : The Young– Anina (L & M: Anine Stang / Mattias Frändä / Johan Åsgärde)
Song 6 : Not Afraid –  Winta (L : Winta / Beyond 51 / M:Beyond 51)
Song 7 : I Love You Te Quiero – Sirkus Eliassen (L : Magnus Eliassen / Erik Eliassen / M: Magnus Eliassen)
So there we have them, the final seven from which the last three finalists will emerge on Saturday. As in the previous two heats, this heat is no poorer in terms of variety, with genres as far apart as industrial goth metal, latino pop, party music, dance and bluegrass/country. The biggest names among tonight's artists are Winta, who has enjoyed a succesful career since 2002 and Sirkus Eliassen, two brothers whose two singles have sold to both 5 and 10 times platinum status.  Gaute Ormåsen is back again for another try following his 2010 entry which carried him to the Siste Sjansen round, Synk Eller Svøm.
Margaret Berger won her heat convincingly and as is the case with several other entries taking part this year is creating quite a buzz. Mere hours after her win on Saturday evening, her entry I Feed You My Love shot to the top of the Norwegian iTunes chart. It will be interesting to see if any of this week's contenders manage to match the momentum that Berger gained. All of this week's entries can be heard through Wimp, iTunes and on Spotify via the official NRK Melodi Grand Prix website. Just who NRK has chosen as its wildcard to snag the last elusive spot in the grand final is yet to be discolsed. Stay tuned for further details surrounding the newest seven acts prior
to their semi coming from Larvik this Saturday, the 2nd of February.
You might also like to read: