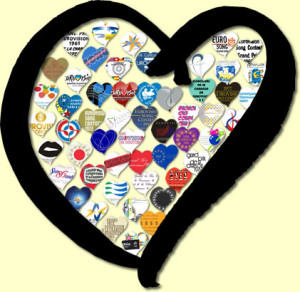 Continuing with the series, it is time to analyse the Albanian voting results on EuroVisionary. Let's see how this beautiful Balkan country has voted.
Albania is one of the newcomers to the Eurovision Song Contest. This Balkan country participated in the Eurovision Song Contest in 2004 for the very first time. In that year, they received their highest position with 7th place for Anzeja Shahini's The Image of You. They also received their highest points in 2004, receiving 106 points. With the exception of 2006 and 2007, Albania has always made it to final. Let's see how Albania voted at this year's Eurovision Song Contest:
Televote
Albania opened their voting by giving 1 point to Israel. It seems Albania always gives points to Israel when Israel makes it to the final. In 2008, they gave 4 points, in 2005 3 points proving that Israeli music is loved by Albanian people.
Albania continued with 2 points to Iceland, which is the newest country for Albanian people to vote for. Iceland is one of the lucky countries who were able to take points from almost every country as Johanna reached Iceland's highest heights this year.  
Although France is one of the big 4 countries who are automatically in the final every year, Patricia is only the one of the four who takes any points from Albania. France took 1 point in 2004 and 2005 and 4 points in 2006 from Albania.
Sweden, which is a northern country for Albania, always manages to take some points from Albania with their music. But we should admit that Sweden is one of the most successful countries in the Eurovision Song Contest, though they have not been placed near the top of the list since 2006. This year's 4 points given to Sweden shouldn't make Swedish people surprised at all.
Five points from Albania went to the United Kingdom's Jade, who was very successful this year for the United Kingdom after a long long time being unsuccessful at the contest. That also affects the results, being 10th in the televoting.
Germany is almost in the same position as the United Kingdom, not receiving points for a long time. The biggest difference is the United Kingdom was the successful one. Being indirectly neighbours and being on the same geography would help Germany receive points from Albania.
Through to the top points, one of the new faces in the contest, Azerbaijan took 7 points from the Albanian televote for the first time ever. Although this is Azerbaijan's second contest, it seems they will dominate the contest soon if they continue their trend. 
Eight points given to Norway should not be too much of a surprise for Alexander, who managed to take points from every country, although it is one of the fewest points awarded to Norway this year.
The top two has not changed for Albania with their neighbourly voting this year. Greeks and Turks have two of the largest immigrant populations in Albania, and we can say that Albania is a direct neighbour to Greece and indirectly to Turkey. Ten points were given to Greece and 12 points to Turkey with the combined results.
Jury Voting
1 point: Malta
2 points: Spain
3 points: France
4 points: Croatia
5 points: Norway
6 points: Iceland
7 points: Turkey
8 points: Bosnia & Herzegovina
10 points: Greece
12 points: United Kingdom
If we combine the results split 50/50, those replace as:
1 point: Sweden
2 points: France
3 points: Germany
4 points: Azerbaijan
5 points: Bosnia & Herzegovina
6 points: Iceland
7 points: Norway
8 points: United Kingdom
10 points: Turkey
12 points: Greece
With these results, the Albanian jury has agreed with people's decision on televoting and all the countries are included in the final voting table, with the exception of their Slavic brothers, Bosnia Herzegovina.
You can watch the final performance of Albania form Swedish broadcaster SVT with Kejsi Tola below: Carry Me In Your Dreams.