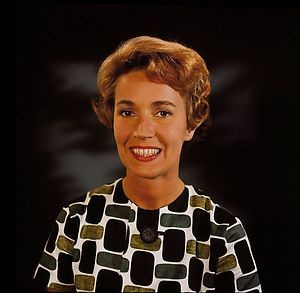 Yet another Eurovision personality has gone on to the great Eurovision in the clouds. Presenter of the 1958 Eurovision Song Contest and former television presenter Hannie Lips passed peacefully away last week at the grand old age of 88.
Hannie Lips shot to nationwide fame as one of the very first television presenters in the Netherlands. Presenting the contest from Hilversum, Lips experienced all presenters' nightmare when technical problems struck the show and she had to inform the viewers, a task she managed with great aplomb. It was also the year that saw France take its first victory with André Claveau and Dors, Mon Amour, Italy and Domenico Modugno sang Nel Blu di Pinto di Blu twice (due to the aforementioned technical issue) and it was one of the very few contests without the United Kingdom present. Lips also hosted the national final, Nationaal Songfestival on two occasions, in 1960 and 1962 further consolidating her popularity.
After presenting the Eurovision Song Contest, Lips became a friendly face often seen on Dutch television, hosting many popular childrens' shows such Dappere Dodo, Hokus Pokus and Dat Kan Ik Ook. So much so was her popularity that she became known as "Auntie Hannie" to many kiddies of the era. Many have paid tribute to Lips following her passing, telling of fond memories from her time as a presenter, including a Henk van Gelder, who wrote in NRC Handelsblad that ""Auntie Hannie" became an icon. She waved with both hands, palms facing the cameras at the end of every show. In thousands of homes all across the land, children would sit there and wave back." Her trademark wave apparently started as the result of a complaint – her little niece was eagerly watching her aunt on television and waved, but her aunt didn't wave back. Always the professional, Lips soon resolved the situation, with the permission of the heads of the KRO channel to end her Dappere Dodo (Brave Dodo) show with a wave to the audience. 
The popular presenter disappeared from television screens altogether in 1966, with twelve happy years behind her. Following Lips' death in her home town of Laren, she was given a private cremation by her family.