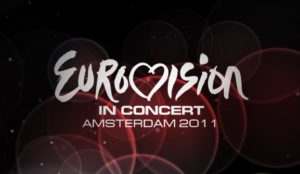 Eurovision in Concert 2011; a preview party featuring participants of this year's Eurovision Song Contest, will be held for the third time on April 9th 2011 in the venue Club Air, situated in Amsterdam, The Netherlands. So far 15 countries have confirmed that they will be there.
As mentioned, the event will take place at Club Air, a modern, new nightclub with an excellent viewing balcony situated in the heart of Amsterdam, (unlike last years, in the middle of the countryside) The Netherlands. The show will be hosted by Esther Hart (The Netherlands 2003), Cornald Maas (former Eurovision Song Contest commentator for The Netherlands) and German presenter Sascha Korf.
The event already has an impressive set list containing the following acts:
Austria: Nadine Beiler – The Secret Is Love
Poland: Magdalena Tul – Jestem
Serbia: Nina – Čaroban
Latvia: Musiqq – Angel in Disguise
FYR Macedonia: Vlatko Illievski – Rusinka
Bulgaria: Poli Genova – Na Inat
Slovenia: Maja Keuc – No One
Turkey: Yüksek Sadakat – Live It Up
Belarus: Anastasia Vinnikova – I Am Belarusian
Cyprus: Christos Mylordos – San Aggelos S'Agapisas
Finland: Paradis Oskar – Da Da Dam
Switzerland: Anna Rossinelli – In Love For A While
Albania: Aurela Gace – Feel the Passion
Armenia: Emmy – Boom Boom
San Marino: Senit – Stand By
Eurovision in Concert is expected to have an overall setlist of 20-25 participants from the 2011 Eurovision Song Contest with more artists added to the list every week.
Similar to other years, the event will be split into 2 parts; a day programme containing different activities for press only such as interviews and photography sessions. You will be receiving live updates from our team on-location via the EuroVisionary website. The 2nd part of the day being the concert itself open to the public beginning at 20:00 CET.
To attend Eurovision in Concert, please follow the link at the end of the article. The tickets are priced at a great price of €25,00. Buy them quickly as they are likely to sell out soon! The official website for Eurovision in Concert can also be found via the links. 
See you soon in Amsterdam and in the meanwhile you can warm up with our two playlists from last year's Eurovision in Concert. In the first one you find the performers singing their Eurovision Song Contest entry while the second one offers them in other songs. Don't miss out on for example Sieneke's Eurovision medley, Harel Skaat's Hallelujah or Alyosha's very special version of Nocturne. Or Josh's Too Many Broken Hearts or what about Aisha singing Janis Joplin's old hit Me And Bobby McGee. 
Links
Eurovision in Concert Tickets
Eurovision in Concert Official Website