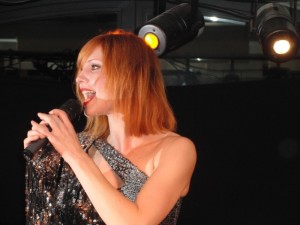 Big names like Anabel Conde, Pernilla Wahlgren and Jenny Silver were guests at OGAE Swedens annual convention held on Saurday the 1st of October in Stockholm. EuroVisionary show you videos from the meeting that was yet another successful arrangement by the club, in Sweden called Melodifestivalklubben.
The convention has year after year attracted a crowd of over 100 visitors at the large brick building called Münchenbryggeriet, mainly swedish members of the
club but also fans outside the country. The meeting is also open for non-members of the club (who has to pay a higher fee to attend to it).
The day kicked of with the members of the club attending to a meeting to elect the new board. After the meeting it was time for a delicious cake and a quiz with questions related to Melodifestivale and Eurovision Song Contest.
After a break of 2 ½ hours the real party started with a three dishes dinner and the much awaited performances from the guest artists (who were kept secret until they entered the stage).
First out was the dragshow artist Babsan (Lars-Åke Wilhelmsson) who entertained the people with jokes and the song he entered Melodifestivalen 2011 with – Ge mig en spanjor.
Next up was Jenny Silver who performed four different songs, among them A place to stay from Melodifestivalen 2010 and Something in your eyes from 2011 which she perfomed twice for an excited audience.
The next performer was Anabel Conde who represented Spain in 1995 and came 2nd with the song Vuelve conmigo.
Last out to sing was Pernilla Wahlgren who perfomed her four songs from Melodifestivalen – Piccadilly Circus (1985), Tvillingsjäl (1991), Let your spirit fly (2003 with Jan Johansen) and Jag vill om du vågar (2010).
Many hours of dancing to music played by Dj Ohrmeister ended a very successful meeting that people willl remember and talk about long after it has ended.
Below you can see EuroVisionary's video from the event, which gives you an idea about how it all was.