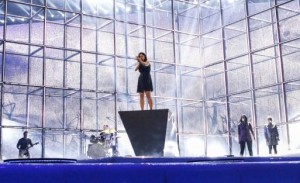 With a background in classical music, twenty four year old Albanian singer Hersi Matmuja is one of the youngest participants this year. She will be representing her country singing quirky pop song, One Night's Anger.
The song starts with a background of white fluffy clouds and Hersi standing on a raised podium, making quite an impressive start for the Albanian entry. The stage is lit in shades of light blue and white. Hersi is wearing a dark blue mini dress. She is soon joined but an electric guitar player getting on stage from the left to join a drummer and Hersi's two backing vocalists (one of whom could be a Nana Mouskouri lookalike) who are already placed behind the main singer.
For the second run of the song, Hersi appears barefoot and the jacket she was wearing earlier is gone, too. The singer was more animated during the second run, her vocal performance is good all the way through but, again, this being the very first time artists are rehearsing on stage, Hersi looks too concentrated on her performance. Hopefully this will be sorted out in time for the first semi final.
There is quite a long lapse between the second and the third run of the song when it becomes apparent that the crew is still working out the camera angles with the singer. When the third run of the song comes on, we get quite a different staging as now the background clouds are not there from the start. Instead, it becomes a spotlight based presentation – quite similar to that of Sweden, though not as dramatic – before there are added background effects of black trees in front of the aforementioned white clouds. After a fourth run, it is quite clear that the Albanian delegation is trying out different options of how to best present their song at this stage.