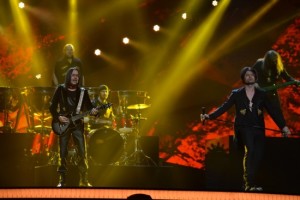 Adrian Lulgjuraj and Bledar Sejko gave their second rehearsal with their song, Identitet.  The Albanian duo returned to rock the stage with a lively and colourful show using every gimmick possible.
Adrian and Bledar take to the stage dressed in black.  They are backed by an all male band.  There are two percussionists, a keyboard player and guitarist.  There is a platform raised for the band with Adrian and Bledar at the front.
The final run through was a massive show of pyrotechnics and powerful strobe lighting.  The lighting was a combination of greens, reds and whites.
There were fires raging and smoke fuming up in the air.  Combined with the lighting and the heavy rock sound the Albanian team gave their all. The floor was covered in smoke/dry ice.
The front circle of the stage was used for a big guitar solo.  Here the guitar had fireworks shooting high in to the arena.
The camera work had so much to cover in these three minutes with close ups of Adrian and Bledar using their vocals and guitar solo spots.
A big show from Albania. Will all this work pay off and take them to the final?