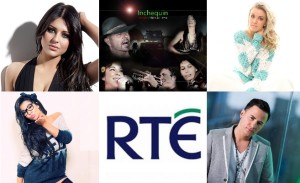 Eurovision's most successful nation launches into the fray on Friday night when TV station RTÉ broadcasts the national final which could lead to Ireland's eighth win.  In a continuation of the pared down competition we've seen in recent years, five acts will compete for the honour of representing their country.  We meet them here.
After two years of the notorious twins Jedward, Ireland is looking for something different.  Less well-known names will be singing the five songs, each mentored by a big name in the Irish entertainment industry.  Click on the song title to go to the music video of the song.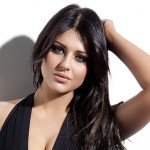 Kasey – Kiss me there (writer Drax)
Kasey Smith is no stranger to the Irish music scene.  In 2008 she was recruited into the girls group Wonderland, the brainchild of Louis Walsh and former Westlife member Kian Egan.  They released several singles and an eponymously-titles album in 2011.  The album reached No6 in the Irish charts and No8 in the UK.  Kasey is mentored by Irish radio DJ Mairead Farrell.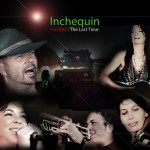 Inchequin – Son kez/The last time (writers Hugh O'Neill, Sinéad Bradley)
Inchequin is a fusion of Irish and Turkish music.  The members are Hugh O'Neill, Sinéad Bradley, Tevfik Kulak, Selin Türkoglu and Ayda Tunçboyaci.  O'Neill and Bradley had been writing music together for 19 years, and when the recession hit Ireland in 2009 they moved to the Turkish village of Gumusluk. The band members came together when a bar opened in the village and they all immediately clicked when they performed on stage together.  Since the collaberation started, they've recently written music to a new film The Famine, which tells the story of Turkish boats that brought food to Ireland during the 19th Century Famine.  They have released eight albums, and Son kez/The last time is the title of their latest.  Inchequin's mantor is Shay Healy, who most famously wrote the 1980 winner for Johnny Logan What's another year.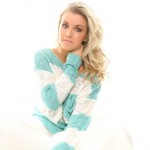 Aimée Fitzpatrick – Crashing down (writer Robert Grace) 
Aimée is just 17 and comes from Swords in County Dublin.  She's in her final year at college, and wants to get into the music business.  She has been singing and dancing since a very early age and has performed in both Europe and the USA.  Aimée is mentored by musician, DJ and record producer Mark McCabe.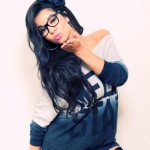 Zoë Alexis Bohorquez – Fire (writers Lauren White, Niall Mooney, Willie Weeks)
Zoë comes from Mullingar in County Westmeath.  She's been a familiar face in her home county, appearing in many local productions as a singer, dancer and actor.  In 2010, she was part of the girl group UndergrounD and they were awarded Best New Group at the Irish Entertainment Awards.  She will shortly be working with the producer Afrojack.  Her fame is such that One Direction's Niall Horan has endorsed as the singer he'd like to see performing for Ireland in Malmö.  Zoë is mentored by songwriter and producer Niall Mooney, who most famously co-wrote the Irish entry for the 2009 Eurovision Song Contest Et Cetera, performed by Sinéad Mulvey.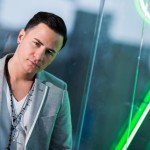 Ryan Dolan – Only love survives (writers Wez Devine, Ryan Dolan) 
Ryan is a singer songwriter from Strabane in County Tyrone.  He'll be singing his own composition.  He has been writing for several years, and has supported acts such as Tinchy Stryder and Jedward.  His Youtube channel demonstrates his talent and has received approaching 1,000,000 hits.  His mentor is Stuart O'Connor, who has also worked with Jedward, most notably in arranging their Eurovision entry Waterline, which featured in the 2012 Eurovision Song Contest in Baku. 
Ireland chooses its song during a special edition of the Late Late Show, on Friday at 22.35 CET on RTÉ1 and online on RTÉ's website. 
Ireland in the Eurovision Song Contest
Since first participating in the Naples contest 1965 (Butch Moore and Walking the streets in the rain), Ireland holds the record for winning the contest seven times.  Johnny Logan became the first singer to win the contest twice when he achieved his second victory in 1987 with Hold me now.  His earlier success was in The Hague in 1980 with What's another year.  In the 1990s the country dominated, with four wins, including three-in-a-row.  Johnny Logan also wrote one of these 1990s winners, Why me, performed by Eurovision legend Linda Martin.  Since those heady days, however, Ireland has done less well, and has not been in the top 5 since 1997, the last time the contest was held in Ireland.
You may also be interested in reading:
Links