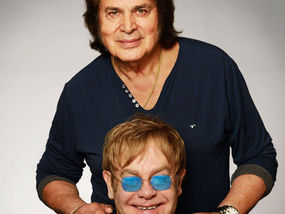 Engelbert Humperdinck is to record a song with Elton John for the very first time on an upcoming album.  Engelbert will follow up his United Kingdom Eurovision song, Love Will Set You Free, with a project of duets.
Engelbert Humperdinck has had a phenomenal career stretching nearly 50 years.  It is 45 years since he reached the number one chart position in the UK and around the world with Release Me.
Engelbert was considered a controversial choice by many to represent the United Kingdom at the Eurovision Song Contest in Baku this year.  However, his popularity around the world cannot be denied. Unfortunately, the rest of Europe did not agree and Love Will Set You Free finished in the bottom two.
Now Engelbert is working on an exciting collection of duets for his next album.  His announcement of Elton John is a major coup.  Elton is one of the world's biggest recording and live performing artists having many number one and top ten hits including Crocodile Rock, Don't Let The Sun Go Down On Me, Sacrifice, Goodbye Yellow Brick Road and the biggest selling single ever in the United Kingdom, Candle In The Wind.
Engelbert is keeping the rest of the album and his other duets a secret for now.
You can see Engelbert's dress rehearsal performance of Love Will Set You Free by EuroVisionary below.