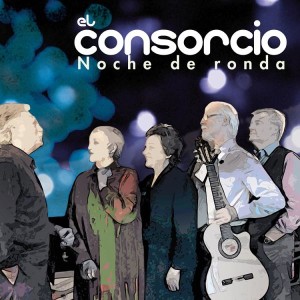 It was about time! That is what the members of El Consorcio say when they were asked about their new album released today. Under the name of Mocedades they represented Spain at the 1973 Eurovision Song Contest with Eres Tú and also two of them, Sergio and Estíbaliz, participated again in 1975.
Noche De Ronda is the new work of El Consorcio, the group formed by Amaya Uranga, Estíbaliz Uranga, Iñaki Uranga, Sergio Blanco and Carlos Zubiaga. It is the continuation of a career that began in the late 60s when eight young students from Bilbao gathered to unleash their musical vocation with a folk sound. Thus Mocedades was born becoming one of the most iconic groups of the Spanish music scene of the last half century which today is still alive under the name of El Consorcio.
Time passes, but what remains are the magnificent voices of El Consorcio with an unparalleled quality at the service of a timeless songs to create an album with no history in the music sung in Spanish.
The album contains versions of fourteen Mexican hits and it fulfills a wish from the members of the group that comes from afar. They say, "since 1974, Mexico has become our second home and, almost forty years later, it is time to dedicate an album to that country with this great selection of masterpieces which have come with us throughout our career in our trips and concerts".
With this passion they have dared to add their unique musical style to these songs, trying to approach the versions made by their original authors and performers.
The track list of Noche De Ronda is as follow:
01 Cucurrucucú Paloma
02 Pa Todo El Año
03 Si Tú Me Dices Ven
04 Guitarras De Medianoche
05 La Feria De Las Flores
06 Esta Tarde Vi Llover
07 Amor Eterno
08 Noche De Ronda
09 Ella
10 Frenesí
11 Te Extraño
12 No Vale La Pena
13 Serenata Huasteca
14 Contigo Aprendí
Below you can watch the promotional video of the album where we see the five members of the group speaking about the stories behind each of the songs and also singing some of them.