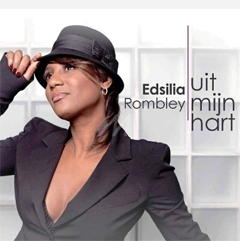 Edsilia Rombley is back with a brand new single as earlier reported here on Eurovisionary, a thumping, uplifting duet with another great Dutch voice, namely that of Ruth Jacott. The single Uit het Oog, Niet Uit Mijn Hart (Out of Sight, Not Out of Mind) is lifted from her brand spanking new album, Uit Mijn Hart (From My Heart).
Edsilia Rombley first came into the spotlight as part of the girl group Dignity in 1995. In 1996, she went on to win the Dutch Soundmix Show, giving a convincing rendition of Oleta Adams' I Just Had to Hear Your Voice, introducing her to the mainstream audience in the Netherlands. She subsequently launched a solo career in 1997 and in 1998 reached the lofty heights of Eurovision fame with the dance number Hemel en Aarde, giving the Netherlands a fourth place in Birmingham. Since then, her career has been a roller coaster ride, with later releases meeting mixed success. Commercial success notwithstanding, Rombley's is without doubt one of the most distinctive voices to emerge from the Dutch music scene during the past twenty years.
Her latest offering, Uit Mijn Hart is a chance for both fans and those not familiar with Rombley's work to take a look back at her career. Many artists often make the mistake of hastily putting together a greatest hits package where the lack of involvement is all too evident. Not so in this case with 18 tracks on offer, acting as a brilliant showcase for Rombley's versatility as a recording artist.
The album gets off to a rousing start with a gem of a number, Ik Laat Je Niet Alleen (I Won't Leave You on Your Own). Accoustic guitars, a memorable chorus and a sound that just fits, giving the track the perfect cohesion makes for a blinder of an opener, with lyrics dealing with love. The following track is a fantastic treat for all Eurovision fans, being in the form of a duet with 1993 Dutch entrant Ruth Jacott. Uit Het Oog, Niet Uit Mijn Hart (Out of Sight, Not Out of Mind) brings together two formidable voices which ooze soulfulness. The song is a chirpy dance number, apparently a message of friendship between the two artists, an optimistic sound that has radio hit written all over it.
The third track, Éen Keer Meer Dan Jij (One Time More Than You) sees Rombley switch tempo, venturing into ballad territory with this sweet offering. A tender piano-led wistfully bittersweet number makes this for me one of the highlights of the album. Gotta Let Me Go is the next track, the first of 6 english language tracks to be included on the album. Spanish strings and a sultry performance also make this a memorable ballad, full of yearning and packed with emotion. Nooit Meer Zonder Jou needs no further introduction, being the Dutch Eurovision entry for 2007, this time in it's Dutch version. Another dance floor number, slick vocals and a tight production remind us why this was tipped to do so well yet still failed miserably at the contest, a mystery to this day.
Get Here is Rombley's tribute to the lady who kick started her career, Oleta Adams. Choosing to make a cover of such a standard is risky business indeed, yet Rombley makes ths song her own, with a new arrangement and sound that suit her voice perfectly. The girl was born to sing, no two ways about it. I'll Be That Someone is next up, another duet, this time with Trijntje Oosterhuis. The track has a schmalzy sound to it, sounding like something Whitney would have released in the 90's, but schmalz is not neccessarily a bad thing. A stellar vocal performance from both artists saves this track from being just another album filler with a glossy, Hollywood feel. On track 8, Geef Je Over (Surrender) is something of a jekyll and hyde track. Deceptively beginning as a mournful ballad, telling of how it is to love someone with heart and soul, the song suddenly comes alive, bursting into a disco stomper guaranteed to have everyone up on their feet.
On Samen Alleen (Together Alone) is another ballad; with already so many ballads on offer, you'd have thought that Ms Rombley was in danger of giving the listeners an overdose of balladry, but this is definitely not the case here with this elegant number and another vocal highlight on the album. On Don't Cry For Me, a live recording sweeping strings and simple piano prove the perfect accompaniment to her voice. Over and Out is the eleventh track on this compilation and is a great flamenco tinged number dealing with the loss oflove and loneliness, a more uptempo number despite its subject matter. The next track is also a treat, in the form of a bubbly, playful reworking of the Rick Astley number Never Gonna Give You Up which again, Rombley manages to convincingly make into her own.
Hemel en Aarde (Heaven and Earth) is the next track, already familiar to most of us as a great laid back, sassy song that brought her success back in 1998, having stood the test of time surprisingly well. On Dan Ben Ik Van Jou (I'm Yours), Rombley turns even sassier with this funky, extremely danceable number. Disappointingly, Dit Kan Niet Meer (This Can't Go On) turns out to be one of the weaker offerings, a duet with Gordon, member of De Toppers who sang for the Netherlands in 2009 with Shine. Although their vocals are faultless, the song somehow lacks that certain something to make any impression and turns out to be pretty anonymous. Fine to play as background music, though. Dat Je Altijd Bij Me Bent (Song For Honey) (You're Always With Me) is a divine, soft little number, a fitting tribute to Honey, whoever she may be.
The album's last two tracks are the english language version of Nooit Meer Zonder Jou, On Top Of The World and a more uptempo dance remix of Hemel en Aarde. Overkill perhaps, but they are nevertheless relevant enough to be included on here.
As greatest hits packages go, this one is a cut above the rest, with tracks of all genres on offer, serving to prove just why Ms Rombley is indeed one of the most talented vocalists in the Netherlands. Oddly enough, there are only two tracks featured here from her greatest commercial success, Meer Dan Ooit (More Than Ever) from 2008, the sublime title track should definitely not have been overlooked and included here. Having said that, there is so much good material on offer here, so it's easy enought to forgive Ms Rombley. A solid investment to your collection, regardless of what music you're into.