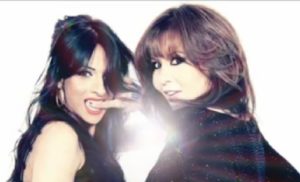 Two of Israel's biggest divas have released a new duet and they are no less than Dana International who won the 1998 Eurovision Song Contest and came back in 2011, and Yardena Arazi who also represented Israel twice in 1976 and 1988. The title of the song they sing together is When Men Dance.
The rumour about a duet by two Israeli entrants spread on Israel's radio stations for weeks and now that it has been released it has soared to the top of the charts. The song was written by Yoav Ginai who wrote Dana's winning Eurovision song, composed by the recognized musician Yehuda Poliker and produced by Dor Dekel.
Yardena Arazi is one of the most successful Israel's female singers and her career spans from the 1970s until today. She was part of the successful trio of girls Shokolad Menta Mastic (Chocolate, Mint and Chewing Gum) together with Ruthie Holtzman and Lea Lupatin who represented Israel at the 1976 Eurovision Song Contest singing Emor Shalom (Say Hello). In 1979, when the Eurovision Song Contest was held in Jerusalem for the first time she was chosen to host the show. Although the group of girls disappeared she continued her solo career and her albums sold thousands of copies in her home country as well as overseas. She tried again to represent her country in 1982 achieving the second place in that year's national selection with the song Musica Nisheret (The Music Stays) and she tried again once more the following year with Shiru Shir Amen obtaining the same result. Finally, her return to the Eurovision Song Contest came in 1988 singing Ben Adam (Song Of Man).
Dana International is the world's most successful transgender vocalist who won the Eurovision Song Contest for Israel in 1998 with the song Diva. Since then, she became a cultural icon and an international star performing all around the globe. In 2008 she composed the song that represented Israel at the Eurovision Song Contest called The Fire In Your Eyes performed by Boaz Mauda. In 2011 Dana represented Israel once again with the song Ding Dong written by her and finished 15th in the second semi-final. When Men Dance is Dana's first official studio song since Ding Dong but her first solo single from a brand new album which is scheduled for release next fall.
Below you can listen to the duet single of Dana International and Yardena Arazi: