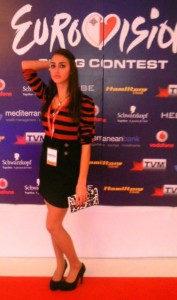 Nicole Azzopardi has been busy since participating at the 2010 Junior Eurovision Song Contest.  She is now a successful actress and singer in the popular Maltese teen drama, D.R.E.A.M.S.
Nicole Azzopardi participated for Malta in the Junior Eurovision in Minsk in 2010 with Knock Knock!…Boom! Boom!  She has since released several songs and taken part in festivals such as the Tahtede Laul in Estonia.
Now she is a successful actress in the very popular teen drama D.R.E.A.M.S. produced by Rewind Productions for TVM.  She plays the character known as Sally.  Nicole said she is equally recognised now for this character in Malta as she was for her performance at Junior Eurovision.
D.R.E.A.M.S. covers all the lives of teenagers and their families including subjects such as bullying, peer pressure and domestic violence.  It also covers their dreams and ambitions and there is singing in the show too.
Another former Malta Junior Eurovision singer acting and performing the show is Daniel Testa who sang in the 2008 contest with Junior Swing.
Nicole is not forgetting her recording career.  She is soon release a version of Adam Lambert's Never Close Our Eyes.
You can hear below a song Nicole sang in the festival in Estonia, My Heart Beats For Love.