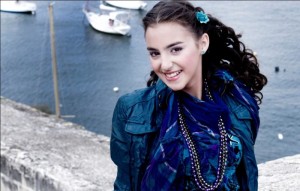 Nicole Azzopardi represented Malta at the 2010 Junior Eurovision Song Contest with the song Knock Knock!…Boom! Boom!  She will now represent Malta at the Tähtede Laul International Children and Youth Song Festival in Estonia between 14 and 16 April.
The festival is spread over 3 days and brings together young acts from 17 different countries.  Nicole will compete in the song contest and also perform in the Gala concert to mark the end of the event.
Nicole Azzopardi will perform 2 brand new songs My Heart Beats For Love by Gerard James Borg and Elton Zarb and Simply Hi! by Giovann and Elton Zarb.
At the Gala, Nicole will perform some other songs including her 2010 Junior Eurovision song, Knock Knock!…Boom! Boom!
For more information visit Nicole's website.