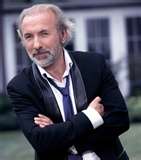 BHRT tonight broadcast a special show to premier the Bosnia-Herzegovina 2011 Eurovision Song Contest song for Dino Merlin.  The song is called Love In Rewind. Last Italian Eurovision participants Jalisse performed their 1997 entry in the show that also featured last year's Vukašin Brajić. 
The show was called BH Eurosong 2011 and featured Dino Merlin with several guests.
Vukašin Brajić sang his 2010 song for Bosnia-Herzegovina, Thunder and Lightning.
Jalisse (Italy 1997) performed Fiumi de Parole.
Dino performed the 1999 Bosnia-Herzegovina entry, Putnici, with Beatrice. 
Beatrice then performed a solo song in the French language.
Mustafa Sandal, the popular Turkish singer, performed one of Dino's big hits in the Turkish language.
Dino finally reveals the 2011 Eurovision song, Love In Rewind.  The song is an upbeat Balkan song performed in English.  He performs on stage with some musicians and a female dancer.