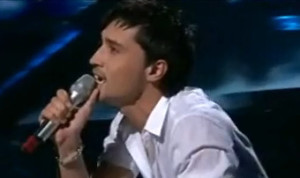 Former Eurovision Song Contest participant, also a winner, Dima Bilan made a quick return to the stage for the good of children. The charity concert 'Believe' was held for children and idea was, to give kids a holiday, belief in life and fulfilling their dreams.
The concert, Believe, was held at Lushniki Small Sports Arena on the first day of May. The charity concert was organized by the fund "League of Good" and lottery company "Bingo Bum"
with attendance of Dima Bilan, Eugeny Plushenko, famous figure
skater, Ukranian composer Edvin Marton and Russian producer, also Dima's manager
Yana Rudkovskaya. The main theme of the show was about giving kids a holiday, belief in life and fulfilling their dreams. Actually League of Good and Bingo Bum was just two organizations that support kids who face a hard time and who cannot manage alone – they support the kids by all possible means.
The attendance to this charity show was over 7000 kids and adults from all over the Russia. The viewers were able to watch a tremendous show with first class figure skaters
accompanied by music of Edvin Marton, Dima Bilan and also potpourri from
"STARS" Academy. Meantime, kids also got their presents and souvenirs, and they also found oppurtunity to take photos together with their idol, Dima Bilan.
The show's closing was made with performance of Dima Bilan, Eugeniy Plushenko and
Edvin Marton with the famous Believe composition. In addition to the other presents, the fund League of Good and lottery Bingo Bum made
the event unforgettable for some kids by drawing tickets for a master class
from Eugeny Plushenko in St. Petersburg.
Below you can hear the famous Believe composition and its official videoclip: