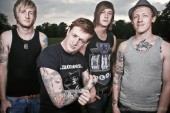 Dedicated fans of UK band Deaf Havana have launched a Facebook campaign to get their idols to represent the UK in Baku in 2012.
The campaign launched on 3 July has already gained 1844 supporters in less than a month. The rationale behind launching this ambitious bid is that Deaf Havana would be a distinct improvement on previous UK entries. With a style reminiscent of Panic! At the Disco, it remains to be seen whether other ESC fans agree.
Hailing from Kings Lynn, Norfolk, Deaf Havana are an alternative rock band that formed in 2006 and have released two albums. Current band members are: James Veck-Gilodi (guitar, lead vocals), Chris Pennells – (guitar), Lee Wilson (bass) and Tom Ogden ( drums, backing vocals). Having toured the UK and Europe in 2010, they have a passionate fan base in their home country. It will be interesting to see whether the Facebook campaign garners sufficient support to get Deaf Havana to make a serious bid to represent the UK in 2012.
Links