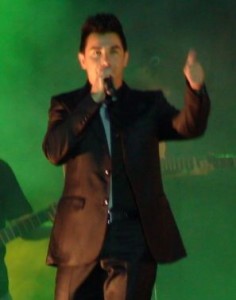 David Civera, the 2001 Spanish Eurovision Song Contest representative, is set to give many concerts during his summer tour around Spain to make the audience enjoy his greatest hits. EuroVisionary was at his concert in Ávila and we could see firsthand that he remains being one of the most successful artists in his native country.
David Civera shot to fame in 2001 when he won the Spanish national final called Eurocanción 2001 and achieved a 6th place in Copenhagen with the song Dile Que La Quiero. Since then, David has gained fame and popularity and achieved many hits on the national music charts establishing him as one of Spain's most popular singers. For this year's summer tour, David offers to the audience a great compilation of his greatest hits which includes songs like Que La Detengan, Bye Bye, Perdóname and, of course, Dile Que La Quiero.
The concert started very punctual at the Plaza del Mercado Chico in the beautiful city of Ávila. The audience who were in the front rows had been waiting for hours to hear him, and once the first member of the band came on the stage, they started shouting David's name. The band consisted of a bass player, two guitar players, a keyboard and a drummer. A few seconds after them, David appeared wearing an elegant black suit and a blue tie. He also had two female backing dancers who were on the stage during all the danceable songs.
The first two songs were Déjate Querer Sin Miedo and Esta Melancolía from his latest album. Then, it was time to remember his way through the Eurovision Song Contest. With the images of his performance in Copenhagen on the LED screen, David sang a renewed version of Dile Que La Quiero wich sounds very similar to the original one that was the song of the summer ten years ago.
Another high moment of the concert came with the acoustic performance of the song, Tengo Un Alma Diferente where David was playing the guitar by himself.
For the second part of the show, David changed his smart suit for a much more casual clothing like jeans, a blue t-shirt and a grey jacket.
More than one and a half hour of catchy dance tracks and nice ballads was what was served to the hundreds of people listening and dancing this very pleasant evening. During his performance, David Civera connected well with the audience transmitting joy and sympathy.