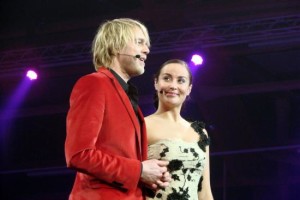 Felix Smith, one of DR's most popular hosts has decided to change jobs. He has been hosting the Danish national final for the past three years and previously said that he will continue with this up until he got to host the Eurovision Song Contest, but with the announcement today that is unlikely to happen.   
Currently Felix Smith is hosting the new programme Skjulte Stjerner, which features A Friend In London's Tim Schou singing duets with Gry's 13 year old son Thomas. A press release from DR today writes that Felix will finish this series that ends on the 14th of October this year.
He will then be starting in his new job at Nordisk Film og TV that mainly makes TV for DR's competitor, TV2, but from time to time also for other TV stations. Felix says that he has been happy working for DR for the past seven years, but that it is time for change for him. He adds: "DR will always be something special for me and I hope I can return to the house one day". It is not yet clear what Felix will be doing in his new job, but he says that it will another type of programmes than he is use to. On DR we have seen Felix Smith in entertainment programmes like Talent, Skjulte Stjerner and as the host of the Dansk Melodi Grand Prix since 2009.
DR's entertainment boss Jan Lagermand Lundme says about Felix Smith: "Felix has been a fantastic host and had a great influence on the modernisation within entertainment we have tried at DR1. I will be missing him and his lovely appearance. One of Felix' stregths is that he handles the media so relaxed. He is good at speaking to everyone, high as well as low and then he looks good on the screen".
Felix Smith was also expected to be hosting the 2012 Dansk Melodi Grand Prix scheduled for Saturday the 21st of Januar, but as the press release only mentions that he will finish Skjulte Stjerner, it is likely that DR will now be looking for a two new hosts; a female as well as a male, for the national final.